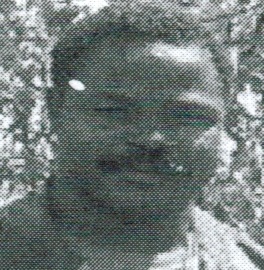 Leslie Ashton Hazel of Orange Grove died at his residence. He was 45 years old.
He is survived by his wife, Roberta Newton Hazel; children: Leslie Jr., Juvita and Jakim Hazel, Leslianna Allen, Orlando Toussaint and Kellory Hazel; grandchild, Jahari Hazel; sisters: Jacqueline Hazel-Leader, Naomi Jeffers, Rhyllis Wattley, Camella Hazel and Sandrine Hazel; brothers: Vernon Hazel, Earl Hazel, Charles Hazel, Alexis Hazel, Ellis Hazel, Curtis Jeffers and Gary Julius; nieces: Jermaine, Cheryl, Teslyn and Amanda Jeffers, Ciquinya Morton, Tia and Rashanni Hazel, Tamika Hazel, Shavorn, Shantel and Shanice Hazel, Samantha and Jamilla Davis; and nephews: Tristan Elliot Hazel, Shavez Hazel, Osquin Morton, Kadeem Warner, Andrea Hazel, Jermaine Woodley, Dwight, Lanville and Craig Jeffers, Zion, Dion and Vion Hazel, Omar Leader, Jason Hazel, Stevaunte Rogers, Devron and Stetson Hazel, and Kevin Davis.
His is also survived by aunts: Roseabel Ceaser, Lyra Warner and Adina Burke; uncles: Melford Hazel and Reuben Hazel; sisters-in-law: Hilary Hazel, Corliss Faye Hazel, Annette Hazel, Venetia Hazel, Mauretta Hazel and Arlene Jeffers; brother-in-law, Maurice Leader; aunts-in-law: Marjorie and Melvina Hazel; father-in-law, Bobo Newton; uncle-in-law, Ivan Ceaser; cousins: Bernadette Bryan, Edwin, Clive, Anthony and Viola Wyatt, Elma Harris, Lyra and Owen Sutton, Jennifer Hendrickson and family at Lime Kline Project, Steadroy and Vaughn Hazel, Shawn Richards and family of Sandy Point, Prime Minister Right Honorable Dr. Denzil L. Douglas; close friends: Allinghton Walwyn (Duce), Eran Fleming, Brother B., Carl Hodge (Limply) and John Bachelor; as well as other relatives and friends too numerous to mention.
A funeral service will take place at 10 a.m. on Tuesday, Sept. 6 at the Church of God Prophecy. Interment will follow at Kingshill Cemetery.
All arrangements are by James Memorial Funeral Home Inc.