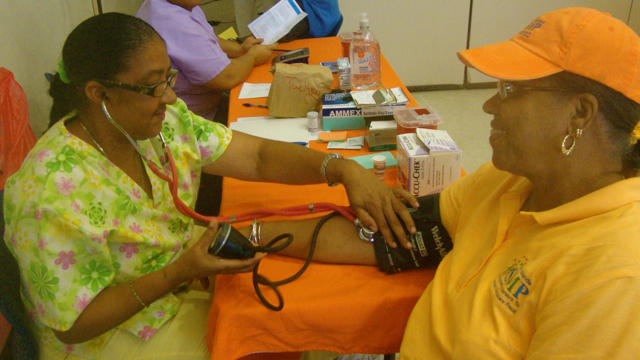 Wednesday's "Power Up St. Croix" Assistive Technology Expo and Health
Fair drew a crowd of seniors toUVI's St Croix campus to learn new tips and old tricks to maintain a high quality of life in their later years.
The event was sponsored by the Center for Excellence in Developmental
Disabilities and the V.I. Department of Human Services (DHS). It was the second such event held on St. Croix.
"The goal is really to display some of the tools that can enable seniors to meet their goals, which is to maintain their independence," said DHS Commissioner Chris Finch.
Some of those tools are relatively low-tech – a flat magnifier to help seniors read. There were also demonstrations on reading food labels, on diabetic-friendly products, and transportation.
It doesn't take a huge investment to make use of many of these tools, Finch said. It takes knowledge.
And then there were the high-tech solutions that can help keep a senior in his or her home. Skype, a ubiquitous computer program that connects computers for video chats, can allow families to keep track of older members, checking in on them regularly from across town or across the country.
On the horizon though not yet available, is a much more impressive system, Finch said, one linking computers with motion sensors. Seniors tend to lead fairly organized, scheduled lives, he said. A series of motion sensors can teach the computer the subject's schedule.
If an older man tends to rise every day at 8 a.m., go into the bathroom for 10 minutes, then go to the kitchen and open the refrigerator, the motion sensors will detect that and the computer will learn the pattern of doors opening and closing, and someone moving up or down a hall. If some morning that pattern was interrupted, Finch said, the computer would flag it for someone to check in and make sure the person is alright.
There were also stations where seniors could have their blood pressure and blood sugar levels checked, and have their vision tested.
A financial planning workshop taught seniors how to manage their financial resources in troubled times, and another session put participants through a lesson in wheelchair aerobics.
The day also featured door prizes and refreshments, and a couple of choruses of "Happy Birthday" to some of the participants.