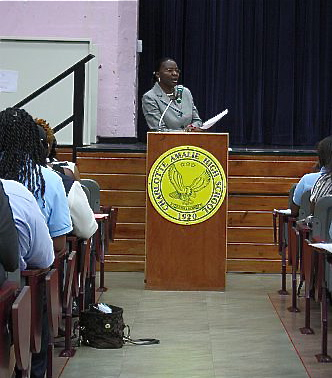 Public schools across St. Thomas sprang to life Wednesday, as students and parents flooded in for the beginning of the 2011-2012 school year.
Administrators said overall there were minimal hiccups, mostly scheduling conflicts that come up every year because of late student registrations. At the Joseph Gomez Elementary School, parents were also looking for answers after one teacher did not show up. However, a statement from Education Department officials Wednesday indicated that the teacher's absence did not "pose a problem for the opening of school" and that students were supervised by a paraprofessional during the day.
Gomez parents, such as Patricia Charleswell, remained excited as they dropped their children off.
"This is the first time for my daughter, and I'm really excited to know that she will be here, since this is a good school," Charleswell said. "And the process so far has been smooth. At first I was concerned that there were no student orientations, but after coming here today and meeting everyone, I feel more comfortable."
Otherwise, there were some staffing shortages at St. Thomas schools due to recent retirements, but administrators said some of the positions were filled by substitute teachers, buying them some time until permanent replacements are found.
"Things have been running very smoothly today," said Ivanna Eudora Kean Principal Sharon McCollum. "We've had the normal things happen, like students needing scheduling changes, but for the most part, I would say it's been a smooth operation: classes are covered, we do not have any situations that we would consider an emergency, we're serving lunch today as well, and we're ready to go."
McCollum said that no problems have come up, since parents have been on and off the campus since last week for student orientations. She also said a number of fathers brought their children to school in recognition of the V.I. Father's March, an event that was started three years ago by Judge James Carroll III and Celia Carroll to show the importance of fathers and father figures in a child's life.
The Carrolls were also out Wednesday, speaking to students at Bertha C. Boschulte Middle School about the importance of having a good education.
Gov. John deJongh Jr. was also a visitor to Kean's campus Wednesday, and spoke to students after taking a tour of the newly refurbished gymnasium.
"I absolutely love this gym," McCollum said. "It's a state-of-the-art facility, and I would say the finest in the Virgin Islands right now, and it is going to really enable us to be competitive in all sports and athletics this year. We're anticipating a banner year, with winning trophies and competitions."
McCollum said she expects Kean to be a "powerhouse and force to be reckoned with" throughout the community, as teachers continue to motivate the students and the school rebuilds its athletic program.
The governor also toured Julius E. Sprauve School on St. John, along with Boschulte and Joseph Sibilly Elementary School on St. Thomas before flying over to St. Croix. During his tour, deJongh talked about increased enrollment in the public schools, which are also dealing with tight budgets and staff reductions, but added his hope for a "tremendous year."
"This is a year where our commitment to our children and our students cannot be reduced at all," he said.
Also touring schools Wednesday were Education Commissioner LaVerne Terry, St. Thomas-St. John Insular Superintendent Jeanette Smith-Barry and Deputy Superintendents Joseph Sibilly and Michael Harrigan, who visited schools on St. John.
Terry began her day at Lockhart Elementary School and then moved over to Charlotte Amalie High School, where she spoke to students about staying focused during their final year. Terry and school administrators also spoke about the need for more parental involvement, and said CAHS has several programs, including weekly radio shows, that will keep parents up to date on what their children are learning in school.
"Today is our final orientation, and all the other students have come in, they're here, revved up and ready to go, so we're looking forward to an exciting school year at CAHS," school Principal Carmen Howell said. Howell is retiring in September, after four years as principal, but said the focus at this point is maintaining CAHS' accreditation.
"We're expecting a team from Middle States in October, and we have been working diligently on our self study, and we will be prepared, we will be ready to receive them," she said.
Terry also visited Gladys Abraham Elementary School and Addelita Cancryn Junior High School before flying to St. Croix.
When asked about her hopes for the school year, Terry said, "My hope is that we start this school year, as we do every year, with a lot of excitement and learning, and that we also end on that same note. I hope that the teachers, administration and staff will continue to be enthusiastic, and I hope that will rub off on the students and their parents, who we hope will continue to be involved in their child's school life throughout the year."