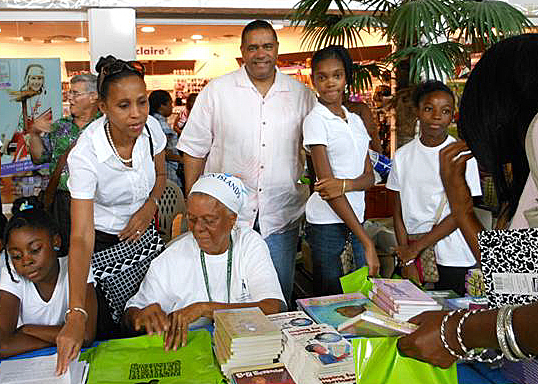 Once upon a time the governor of a small group of islands in the Caribbean Sea decided to fire the imaginations of young residents by introducing them to the pleasures to be found within the covers of a book.
And what better time to do this, thought the governor, than summer vacation. The governor then pondered how to motivate the youngsters. Hmmm, he thought – a contest. That should surely do it! And it surely has.
As Gov. John deJongh Jr. looked over the bustling book distribution Saturday afternoon at Tutu Park Mall – the 2011 Summer Challenge Reading Program – he knew he'd hit pay dirt. The program is thriving, now in its third year.
Under the watchful eyes of parents, youngsters pored over mounds and mounds of brand-new books – books with bright covers boasting stories about everything from fortune-telling to wannabe mocko jumbies to illustrated tales from the animal world, and adventures in a Paris train station.
The challenge is open to all the territory's public, private and parochial school students between kindergarten and 6th grade. To compete, the students must read at least five books over the summer and keep track of their progress on a tracking sheet, which asks students questions about what made the book interesting, favorite characters, and why they liked it.
Joseph Gomez Elementary student Shayna George had a ready answer about "The Big Roar," an imaginative picture book by local authors Phillis Gershator and Mim Green. The first-grader said she liked it because, "it shows a lot of different animals doing a lot of different things."
Turns out the students aren't the most forthcoming of book reviewers.
Chabari Thomas, a Bertha C. Boschulte Junior High sixth grader said of "Moko Jumbi Dreams" by local author Alscess Lewis-Brown, "It was good. It's about a girl who wants to be a mocko jumbie, and she practices."
The governor said about 1,100 books were distributed this year, some in June on St. Thomas and on St. Croix, where a companion event was held Saturday at the Sunny Isle Shopping Center in Christiansted and at Plaza Extra Supermarket in Frederiksted.
A special treat lay in store for sixth graders Saturday – "The Invention of Hugo Cabret" by Brian Selznick, winner of the 2008 Caldecott Medal and New York times best-illustrated book of 2007.
The Times said the book "evokes wonder . . . like a silent film on paper." The beautifully illustrated work is about an orphan, clock-keeper and thief who lives in the walls of a busy Paris train station. Now, how could anyone resist this adventure? The book draws one in from the first drawings, like, indeed, a movie.
The governor said Saturday's events were organized for students who have not yet picked up this summer's books. He said the Reading Challenge runs through September.
While watching the family groups busily selecting books, deJongh, a father of three, said he is delighted with the program's success. "It's something I really love doing," he said. "And it's good for the parents, as well. It gets them involved with their kids."
And there's more for the students to look forward to. "The students who keep track of their reading this summer," deJongh said, "will be invited to a 'Fun Day' where they will be recognized with awards and prizes." He said it would probably be some time in October on both islands.