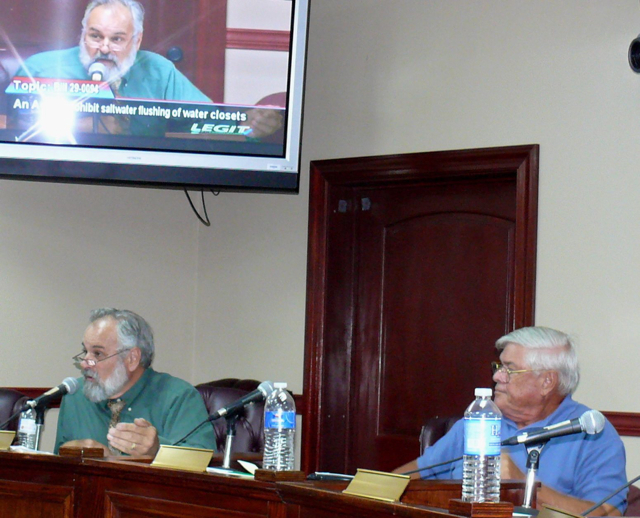 If a ban on flushing toilets with saltwater, approved by committee Thursday, becomes law, V.I. hotels, condos and apartments that follow the practice will have to pay for municipal water, but taxpayers, farmers and the V.I. Waste Management Authority may benefit.
Officials from WMA, the Planning and Natural Resources and Agriculture departments along with the nonprofit St. Croix Environmental Association and several private individuals testified in favor of the bill, sponsored by Sen. Nereida "Nellie" Rivera-O'Reilly. No one testified against the bill.
"Any reduction in salt coming in from toilets will reduce the energy required to take the salt back out, so I am in support of this bill" WMA Executive Director May Adams Cornwall testified to the Committee on Planning and Environmental Protection.
Under the terms of a settlement agreement, WMA has to cease pumping treated water into the sea in 2013, so the treated wastewater will have to go somewhere else, she said. Major improvements completed in 2007 treat the wastewater to the point where it could otherwise be used for irrigation, landscaping, groundwater replenishment and other beneficial purposes on St. Croix, except the salinity of the water is too high, she said.
Currently, WMA is studying desalinating the treated water with a small reverse osmosis plant, but funding is a chronic problem, she said. Several companies have made offers, including one which has offered to pay for a reverse osmosis plant as part of an agreement to receive some of the processed water at low cost. But WMA is trying to ultimately earn revenue from selling the treated water and is trying not to enter into agreements that will reduce that income flow over the long run, she said.
Meanwhile, toilets may not be the main culprit bringing salt water into the system, she said.
"We have sewer systems that are sitting in the ocean and the infiltration from those may be as or more relevant than any infiltration from hotels," Cornwall said, describing several locations where sewer pipes installed decades ago are very close to the shore. In one case, the pipes are actually in the ocean, having been uncovered by shifting shoreline sands, according to Cornwall.
"We do have a project to repair that line," she said. "It costs about $2 million and is not presently funded."
There are about a half a dozen hotels, several condominium complexes and at least one apartment building on St. Croix that use salty water to flush with, said Ken Haines, chairman of SEA's board of directors.
"We tried to do a survey last year, but some hotels did not want to talk to us," Haines said. "There are several hotels in downtown Christiansted that use sea water, and several condominiums on condo row. … There is an apartment complex in Golden Rock that uses briny well water to flush toilets."
Asked after the hearing whether any hotels on St. Thomas used saltwater to flush, Haines said he believed it was less of an issue there and unlike on St. Croix, St. Thomas does not have a looming deadline to cease all ocean discharges of treated water, making it a less pressing issue.
Voting to move the bill out of committee for consideration by the Rules and Judiciary Committee were: O'Reilly, Sens. Craig Barshinger, Neville James, Ronald Russell and Patrick Hill. Absent were Sens. Carlton "Ital" Dowe and Patrick Sprauve.
Both Sprauve and Dowe were present for most of the hearing but departed before the vote on this particular bill.
The committee voted to hold two bills in committee. One was a bill requested by Gov. John de Jongh Jr. to transform the semi-autonomous Waste Management Authority into a Waste Management Agency within the executive branch.
Management and Budget Director Debra Gottlieb testified the changes would improve communication and coordination and efficiency. Several senators questioned whether moving the agency into the executive branch would serve a useful purpose. Hill castigated WMA for making less progress than he had expected and for not implementing tipping fees as originally intended and strongly opposed the change. Cornwall said tipping fees had been proposed, were met with strong opposition in the community and the first proposed fee schedule was rejected by the PSC.
Asked how the change would concretely affect how WMA was run, Gottlieb said the move would put the agency under the direction of the governor and his cabinet, instead of by an independent, volunteer commission, which would make coordination with other government agencies easier.
Cornwall testified the bill removes the authority from PSC jurisdiction "which will reduce costs associated with the implementation of fees."
A bill banning the discharge of ballast water in V.I. waters was also held in committee pending some amendments and input from the shipping industry.