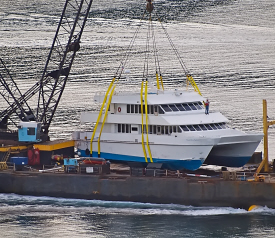 The Royal Miss Belmar, which ran hard aground on Great St. James island on July 4, was finally moved off Saturday and onto a barge, SeaTrans Director Marjorie Smith said.
It took the barge with a crane aboard, pulled by a tug sent from New York, to do the job. Smith said the Royal Miss Belmar remains on the barge in St. Thomas. She said she didn't know where the ferry boat was going next.
The boat ran aground, injuring five passengers, on its way from St. John to St. Croix after a special trip to St. John for the St. John Festival. The boat had 98 passengers and four crew members on board.
The accident happened around 10 p.m. It punctured each pontoon of the 89-foot catamaran ferry and the bottom suffered dents. Planning and Natural Resources Enforcement Chief Austin Callwood said in late July that there was no coral damaged on impact.
However, the elkhorn and staghorn coral under the ferry suffered in the aftermath from lines tied to the ferry and from the oil that spilled. Callwood said the coral is now suffering from bleaching.
The barge, crane and tug were supposed to arrive in early August but they were delayed until Friday by the development of Tropical Storm Emily.
U.S. Coast Guard spokesman Ricardo Castrodad could not be reached Saturday night for comment.