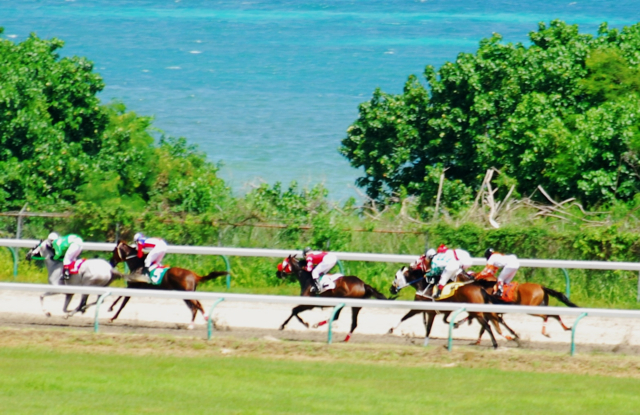 The horses will be off and running Sunday at the Randall "Doc" James Race Track on a short but well-matched six-race card.
This will be the race that should get many of the horses tuned up for the big Labor Day races.
The featured race Sunday will be the sixth and final of the day, a six-furlong sprint for $4,000. Featured in that race will be the highly touted newcomer Berberis, carying 118 pounds, who was handily defeated in his debut last race day by St. Croix champ Expect Smoke. Since it was his first race over the surface he will have to be given a chance to acclimatize and everyone will look for an improved performance Sunday.
Berberis will be joined by the speedy Groomsman, also at 118, who he just edged last race day, Puerto Rican Emblem, 115 pounds, who also ran a huge race in his last outing, Spanish Market who is still waiting to show his best stuff since coming to St. Croix and Bruno's Burst, a speedster who hopes to pull a surprise stepping up in class.
The rest of the day's card:
Race 6 Class N-4-5C/G & M/F 6F $3,400
1. Super Pop 116
2. Miss Kosi 114
3. Midnight Approval 118
4. Kings of Kings 118
5. Omayra's Pride 114
6. Express To Cali 120
7. Papa Birin 118
Race 2 Class I-5(M/F) & I-6(C/G) 7F $3,400
1. Separate Bill 116
2. Excessively Classy 116
3. Pyrite Shelby 116
4. Irie Ites 114
5. M J Kailahsafe 114
6. Thanks McGiverin 116
Race 3 Class I-4-M/F 7 F $3,500
1. Apron's Dance 116
1A. Devil's Revenge 116
2. Destiny Arrival 117
3. Dance Mistress 117
4. Rasta Queen 116
5. Wonderifiamspecial 114
6. Paul's Gift 116
7. Utuado City 115
Race 4 Class I-5-6-C/G 7 F $3,600
1. Tulsa boy 116
2. Salty Glider 114
3. Halo Boudreaux 118
4. Big thunder Reflec 116
5. Itmidas 116
6. According to Jesus 116
Race 5 Class I-3-4 C/G 7 F $3,700
1. Trouble at home (Debut) 119
2. Temo's Dream 116
3. RB's Agenda 117
4. Black Machine 114
5. A Bit Of Madness 119
6. Green Sand 119
7. San Viron 114