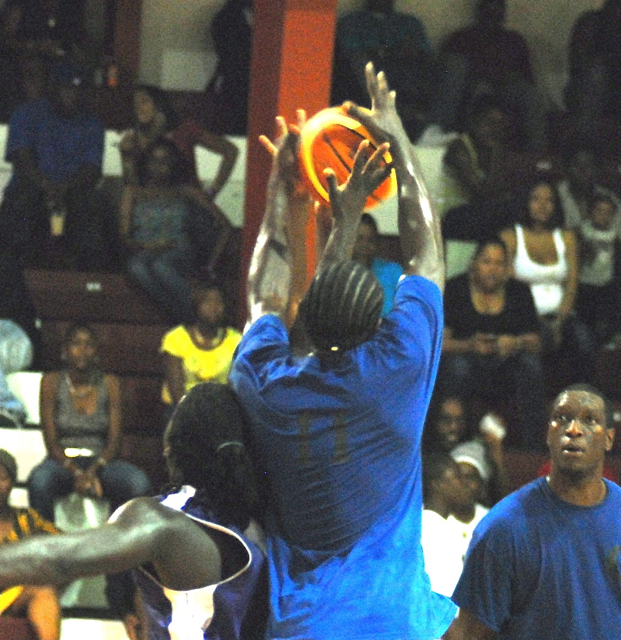 AQ St. Hillare scored 12 points in the fourth quarter Monday, carrying the defending champions Guidance to a hard fought, 65-63, series-clinching victory over the tournament's number-one seeded Kings at the Ronald Charles Gymnasium.
The win put the champs back into the NBBA finals with a chance to repeat. But to get there they'll have to face the Hoyas, winners of four out of the league's last five championships.
The Kings started fast, led by Craig "Big Smooth" Williams' and Omari Eastman's eight and six points respectively. By the end of the first period they were ahead 18-11. Raheem Dennis netted eight for Guidance.
Eric Mcbean came alive for Guidance in the second quarter with eight points to lead his team, but the Kings led30-26 at the half.
Coach Donald Bough's man-to-man defensive scheme helped limit the scoring opportunities for Kings sharp shooter Stephen O'Reilly, who was held to just three points in the first half.
A 15-9 third period for Guidance, led by seven points from St. Hillare and some stingy defense, saw the game tied at 39 after three quarters. The stage was now set for what turned out to be a very exciting fourth period.
O'Reilly had been kept in check for three quarters, but he exploded for 13 points in the final quarter and had the Kings on top 63-60 late in the game. St. Hillare also took charge of his team's offense with a big fourth of his own, scoring a dozen.
Arguably the biggest shot of the game came from the smallest man on the floor. Trailing 63-60 with 44 seconds left in the game, point guard Joelfry Polanco scored his only points of the game when he took an inbound pass the length of the floor, got a pick from teammate St. Hillare and hit a clutch 3-pointer to knot the game at 63. On the Kings next possession a bad pass was picked off by Guidance and Kheri Rhymer put in the game winner to send the Kings home, 65-63.
St. Hillare led four Guidance players in double figures with a game-high 20 points while also pulling down a game-high 15 rebounds. Rhymer finished with 15 points and 12 rebounds and McBean had 12 points and 10 boards. For the Kings, it was Williams leading the way with 19 points and 14 rebounds, O'Reilly finished with 16 and Deandre Pryce added 10.
Guidance will now face the Hoyas in the finals beginning Wednesday night at the RCG.