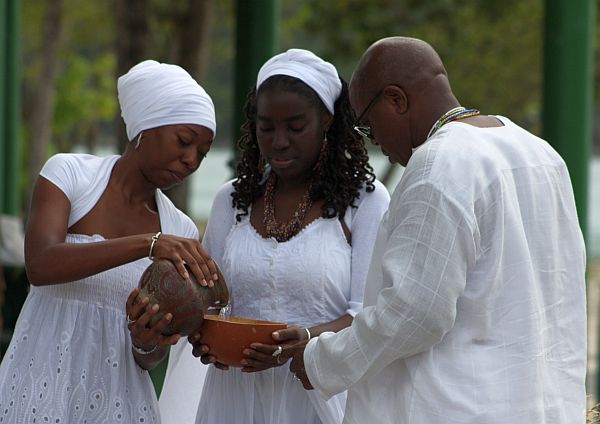 Young girls participating in Kidscope Inc.'s first ever "Grandmother's Mentoring Program" recently got back down to their roots with closing ceremonies at Magens Bay Beach.
One of many satellite initiatives Kidscope operates in the district, the mentoring program began on June 27 and took 16 girls ranging from ages 9 to 15 on a five-week journey toward learning about themselves, their culture and their ancestors.
The theme of the program was "Through my Grandmother's Wisdom, I Found Me," which taught the participants about speaking positively to one another, sisterhood unity and giving back to the community.
According to its website, Kidscope's mission is to help children who are victims of "physical, emotional, sexual abuse, neglect and other forms of maltreatment" and other at-risk youth "facing other challenges in their formative years."
Grandmothers participating in the program worked to teach the young women everything from crafts, such as sewing and jewelry making, and guided them in the ways of growing up. Closing celebrations got the group back down to its roots with a special coming-out ceremony that symbolized the girls' transformation into womanhood.
"It was about our culture, it was all about helping young women to thrive, to see where their future could go, about all the possibilities and affirm everything they desire, and to educate them," said Dilsa Capdeville, executive director of Kidscope.
Officiating the recent ceremony at Magens Bay was V.I. historian Myron Jackson, who is also a renowned Yoruba priest. Jackson said the ceremony was meant to bring the girls back to their African roots to keep them centered and "grounded."
Organizers said the ceremony was meant to integrate the concept of "sankofa," which means taking the good aspects of the past and applying them to present day. The girls learned these life lessons while getting dressed under a billowing white tent on the beach, where they switched out of their regular clothes and into all white garments. The all white is meant to symbolize an awakening of spirit, where the girls are transformed into young women, organizers said.
"While we were in the tent, we were talking to them about life and what they can expect as they get older," said Ja'Nel Harrigan, one of the program's coordinators. "It was a whole ceremony of togetherness, of love and of them really loving themselves, and looking deeper inside to see how they connect with one another. It was beautiful and they were able to express themselves through dance, through pantomime, through poetry and their inner talents were able to show through. A lot of them said after that they felt renewed, they felt beautiful, felt special, that they felt loved."
Harrigan said Kidscope hopes to expand the program so that it is year round and brings in more women from the community to work with the young girls.
"We want each grandmother to be paired with a young lady and to spend a certain number of hours with them per week," Harrigan said. "And that will help them build that bond between the young and the old and get that intergenerational learning going on as well."