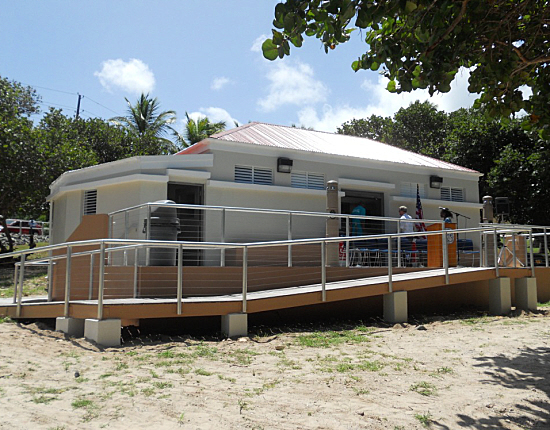 After years of campaigning by locals and a months-long delay waiting for a single part, Brewers Bay now has a brand-new, more than $500,000 restroom and shower facility – and the hope that some day, there will be someone to maintain it.
The ribbon-cutting ceremony Saturday brought out 50 or so political envoys and locals who frequent Brewer's Bay. Several members from the 29th Legislature, police and government leaders, and representatives from the Governor's office were in attendance.
Cardinal Blackman, president of the Brewers Bay Early Morning Swimmers, noted, "the end has come. Patience does a lot and because we have it, we lived to see the complex completed." Blackman has been advocating for a restroom facility at Brewer's for almost 25 years.
The building is tucked behind trees close to the road, easily accessible to passers-by and swimmers. Stainless steel rails and doors will prevent rusting and provide stability during hurricane season, and simple bathroom fixtures as well as cleverly positioned drains will make it easy to maintain a clean space.
But many of those on hand had their fingers crossed that the Brewers facility will not see the same fate as a similar project at Lindbergh Bay, which quickly fell into a grim state of disrepair. Soon after that facility opened, showerheads were stolen, families brought children to bathe, and some left the showers running all night.
In fact, a nearby restaurant on Lindbergh Bay has taken the initiative to keep that facility clean.
Unfortunately, even though the Brewers project finished within its $506,000 budget – and nearby University of the Virgin Islands chipped in an extra $100,000 – no money was available for maintenance.
Nearly every speaker said the community should help by picking up their own trash, and the audience chimed in time and again with "Amen." UVI President David Hall said "we must maintain [the facilities] at a quality level. People should come here and feel proud."
Funding for the Brewers Bay project came from UVI, the V.I. Department of Housing, Parks and Recreation and the V.I. Port Authority. Construction began almost two years ago, and the completed foundation has been finished for some time. But during a test run, one of the pumps failed and it took several months to receive a new part.
Another concern was the impact on endangered marine life and the fact that it is built in the coastal zone. Many environmentalists lobbied against the facility.
The design was conceived by The DeJongh Group and carried out by architect Jerry Buggy.
In closing, Sen. Celestino White said, "It's been 30 to 40 years since we've taken a look at these facilities. It was time."