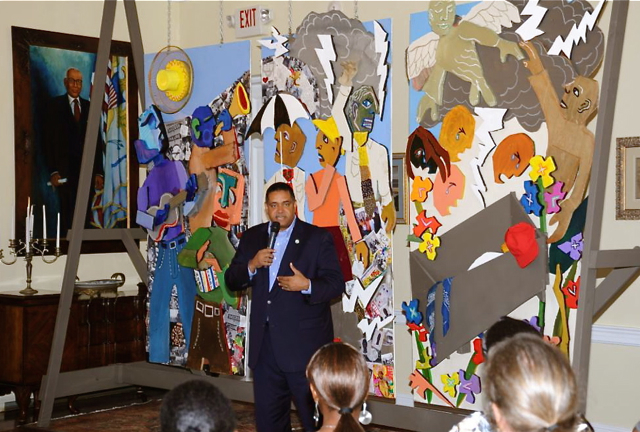 Working past the images of crime and violence they see on a daily basis, members of Graffiti Street and My Brother's Workshop unveiled Saturday a larger-than-life mural designed to spread a message of hope and peace throughout the community.
The mural, an 8-by-20 foot multi-media installation, was donated to the government during a ceremony held early Saturday at Government House on St. Thomas. The ballroom was packed for the event, bringing together not only the groups' members and parents, but an entourage of St. Thomas cabinet members, police top brass, heads of various community groups and Gov. John de Jongh Jr., who hosted the ceremony along with his wife, first lady Cecile de Jongh.
"When the opportunity came for us to be able to host an event like this, it just seemed to be the right thing to do at such a very important time within our community," de Jongh said during his remarks.
This is the second year Graffiti Street and My Brother's Workshop, both local non-profits that work with V.I. youth, have collaborated on an end-of-the-year community service project that is meant to give their members a way to discuss the issue they face on a daily basis, while providing them with a positive outlet for proposing solutions to those problems.
Last year's project culminated in a feature length documentary, entitled "Lessons in Life Management," that began with the groups' members re-enacting various situations in which they were faced with making tough decisions, and ended with them talking about how they could have handled things better. Organizers said Saturday the goal of the documentary was for the students to leave something behind for future generations, which would inspire them to stay on a positive path and set a good example for their peers.
This year's project was created with similar sentiments in mind.
"This gives you an understanding of what our kids think about these days and what they are faced with and what they worry about," Scott Bradley, head of My Brother's Workshop, said during the ceremony. "The project unconditionally indicates that our young kids will step up, and that they will do better. Its unifying message is that the youth need us to help direct and guide them. There is a wave of change coming, and we just need everybody to help and everybody needs to be involved."
The "wave of change" mentioned in Bradley's remarks was also symbolized in the mural by a collage of black and white pictures sweeping over a funeral – complete with a handmade wooden coffin – attended by musicians, mourners and some heavenly spirits that look down on the scene while thunder clouds and lightning bolts gather overhead.
The pictures, which were either taken or carefully collected by the groups' members, showcased positive aspects and events within the community, while images surrounding the mourners conjured up the negative. The storm, according to organizes, is meant to symbolize the some of the "destructive forces" affecting the community.
The mural's concept was put together by renowned local artist William Thompson, whose vision, according to organizers, was inspired by the general theme of images the students had assembled. Thompson's artist statement, read by Graffiti Street cast member Francoise Francis, asked those in the audience to think about their priorities, and what kind of legacy they wanted to leave behind for the youth.
"Will our legacy be one of shame; or denial and shifting of blame?" Thompson's statement read. "Are some blind and can't see; or do we all lack empathy, when around is a storm of rage and pain?"
Thompson's last lines are more hopeful.
"Swirling clouds may shroud our collective sight, but lightning flashes illuminate the darkest night," he wrote. "Priorities can shift; partisanship can be swept adrift. We can all become instruments of change."
De Jongh commented on the mural's conflicting sides after it was officially donated.
"To me, it is an opportunity to see the side of our community that is so beautiful and the other side that the young people see and feel each and every day," the governor said. "And I think it is very difficult to be a young person today. I think they see things at 13 that many of us, growing up, didn't see until we're 30. They experience things that many of us have never had to experience. Issues of fighting with your fists are no longer the same, we're dealing with violence with knives and guns, where beating someone up leads to homicides in many cases, and being able to have disagreements and the power to use words seems to have left us."
But giving local youth the opportunities they need to express and empower themselves can help, and it is what the community's leaders are tasked to do, he added.
Joining Bradley in the donation ceremony Saturday was Graffiti Street Coordinator Ananta Pancham and Graffiti Street members Shakim Cooper, Rosa dePaula, Malene Liverpool, Jimnez Ashby III, Francis, and Byron Todman Jr., along with My Brother's Workshop members Edmund Armstrong, Negus Benjamin, Jesse Francis, Malachi George, Avery Martin, Danny McSween, and Nathaniel Washington.