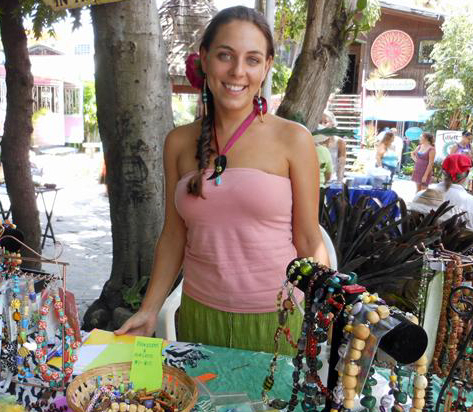 From Bach to ballroom, cupcakes to candles – throw in a chalk garden and homemade island jellies before you even get to the paintings, ceramics, jewelry and crafts – and you've stepped into Tillett Gardens, and its Arts Alive 31st annual Summer Arts and Crafts Festival and Cupcake Challenge.
The peaceful garden, ringed with palm trees, a sheltering genip tree, a frothing fountain, resident iguanas, Jack's Restaurant, Pistarckle theater and the craft shops, is a showplace for the arts. And it was a natural for music, food and camaraderie.
It was far more vibrant than peaceful Saturday, unless you count the performance of Sweet Strings – Alana Davis, 13, and Isis Collier, 14 – who filled the garden with the joyous strains of a Bach piece, causing the audience to sit in wonder at the teenagers.
According to mother Sherry Davis, the two have been playing together since they were around four years old. And it shows. The two are perfectly poised on stage and off.
"They hardly had any time to rehearse for today," said Marcella Jennings, Collier's mother. "They've been off-island, and just arranged the program in the last couple days."
Collier, who also sings, dances and acts, has the lead in the Pistarckle performance of "Annie" this weekend. "It's fun doing what you love," she observed.
Now, about the cupcakes. They may not hang in a museum, but they are creative enough to be noticed, and a great fundraiser. Arts Alive executive director Lynn Berry, said last year's cake "bake-off" was successful enough for a repeat. "We decided to do it again this year with cupcakes."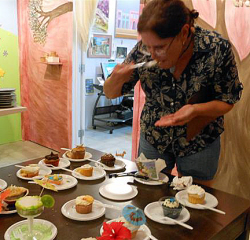 Berry talked Julie Peterson, recently retired owner of Blue Moon Café at Secret Harbor, into doing the judging. Peterson had her hands full – 23 entries lined up on an inside table. While youngsters sold the treats outside, Peterson took a professional taste of each, judging them for taste, presentation and creativity.
"This is more sugar than I've had in months," Peterson said, adding with a laugh, "I'm going boating this afternoon. I hope I don't sink."
And the winner was 16-year-old Avalyn Charleswell, a Charlotte Amalie High School senior, who created a fancy white and green Margarita cupcake, baked somehow in a margarita glass.
"I was so happy," said Charleswell, who is in the CAHS hotel training program. "I just loved baking, but I didn't expect to win. There were so many professional bakers, and I'm just a kid."
Jane Coombs of Mango Tango Gallery and Ruth Prager of Gallery St. Thomas had their wares on display, taking a day off from the galleries. "This is how I got started in 1996," said Coombs, while talking with some of her first customers from that time.
Prager displayed candles, jewelry from recycled bottles and her famous salt vaults. "They really work, you know," she said. "The salt stays dry."
Jason Budsan was doing a bustling business in his Caribbean Herbals and Candles, while keeping one eye on the cupcake judging. "I made a Pina Colada cupcake with rum frosting," he said. The creation was indeed striking, as were his new candles.
Getting back to business, Budsan, an avid environmentalist, showed his newest creation — recycled pieces of blue and green glass floating in a pond of wax in a coconut shell. "The emphasis is on the recycled glass," Budsan pointed out.
Larry Benjamin, Arts Alive board chairman, wandered through the garden, with the watchful eye of an elder statesman, which indeed Benjamin is. Listening to the young violinists, Benjamin said, "I love watching them grow. I've been listening to them for years."
Changing gears, Benjamin opened a small paper bag and brought out a jar of soursop jelly. "Look at this," he said. "The only time I've seen this on the island. It's June's of course."
That would be June Archibald, who had her jams, jellies, condiments and sauces set up, with a crowd gathered gobbling up samples. Archibald, who wears way too many hats to count, has been making the treats from her Precious Produce farm for a few years.
Sharelle Francis displayed her intricately crocheted bags and earrings. "I've never done this in public before," the St. John artist said modestly. "And it's fun.'
Kids played in the Chalk Garden set up around the center fountain, under the patient eye of Doreen Walsh, while the Bertha C. Boschulte Junior High ballroom dance team dazzled the crowd with fancy footwork, ending with Bill Haley's "Rock Around the Clock," which brought a new meaning to ballroom dance.
Also performing throughout the day were Rita Aguila and Janet Reiter, both on guitar; Brenda Silvia with "Flights of Fire"; and "Jammin' Jerry Z"on drums.
The event's sponsors included the National Endowment for the Arts and the V.I. Council on the Arts.