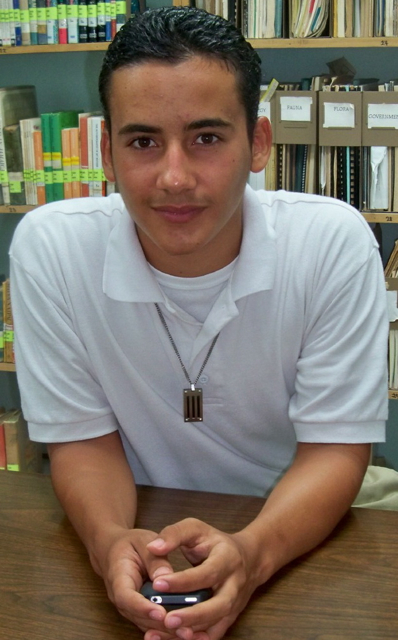 Jonathan Emanuelli, a senior at St. Croix Central High, has set his sights on the U.S. Coast Guard Academy. To see if the academy is right for him and what it takes to succeed, he is spending a week at the academy in July at the Academy Introduction Mission summer program.
"My chances of getting into the academy are increased by attending the AIM program," Emanuelli says. "I'm excited and looking forward to getting a taste of cadet life. I have a good feeling about going to AIM."
The clean-cut, conditioned young man looks like he would already fit in as a cadet.
He decided to try to get into the academy because of all the opportunities it offers, even though he would have to make a five-year commitment to serve in the Coast Guard after graduation.
"It will be a job," Emanuelli says.
He says the academy tuition is fully covered, which is also a plus. He adds he always imagined himself attending a college of that caliber or an Ivy League school.
His goal is to become a neurologist, so he will focus on science in a pre-med track wherever he enrolls. He says he is fascinated with how the brain works, so he wants to do research.
"The brain is just amazing to me and I would like to find out how it can repair itself after damage."
He says his parents, Aisha and Ivan Emanuelli, claim he talked early. English was his second language, and he says he remembers catching on to it very quickly when he stated school at Zion Christian Academy. He is a product of parochial schools, which he says gave him a good background and foundation. Emanuelli transferred from Free Will Baptist School to Central his sophomore year.
"I have always wanted to make my family proud of me so I always strive to do my best," Emanuelli says. "It makes me feel good to have good morals and to be honest, responsible and respectful."
His grandfather Hector Gonzalez is the pastor at the Church of Zion.
He says he loves competition and the opportunity to take part in the academic quiz bowls and bees that Central offers. In April he and three other students from Central took seventh place out of 48 in the National Science Olympiad in Orlando, Fla. He says he wants to take part in as many quiz bowls as possible his senior year. He also says he would like to start a debate club.
He is looking forward to his summer job out on the sea – catching mahi, wahoo and tuna.
"Fishing is fun and maybe I will pull in a lot of money," Emanuelli says.
Apparently, he likes being on and in the water, since he just became a certified diver.
Vibha Bansal, trigonometry and algebra teacher at Central, says Emanuelli is well mannered and a smart student and will succeed at anything to which he puts his mind.
"I like challenges and I love to learn," Emanuelli says. "I also understand nothing in life is free and you have to work for what you want to accomplish."