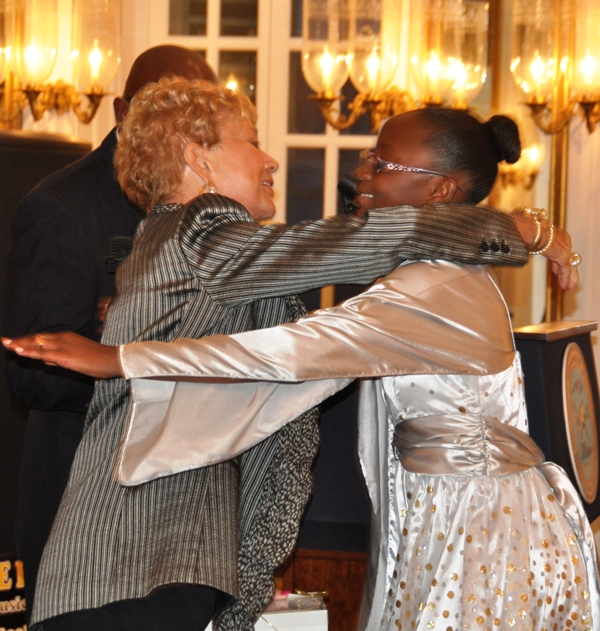 Women, children and distinguished guests crowded into Government House Thursday to pay tribute to St. Croix Women's Initiative founder Linda Appleton.
Appleton, who is stepping down from the role of president and moving off-island to Atlanta, sat humbly poised throughout the evening as numerous speakers, including Gov. John deJongh, first lady Cecile deJongh and Lt. Gov. Gregory Francis, paid homage to her remarkable accomplishments since starting the initiative.
The St. Croix Women's Initiative is a group of approximately 65 to 80 education and literacy mentors, which was formed during the 2005-06 school year. Appleton singlehandedly got women to volunteer their time and money toward the project, which has raised over $400,000 to improve the lives of St. Croix children.
Each woman contributes $1,000 per year toward financing their objectives of providing critical resources to the 10 public elementary schools on the island.
During the evening, many voiced their heartfelt thanks to Appleton.
"I am so impressed with her commitment and drive," said first lady deJongh. "Linda and her crew really paid attention to early childhood education and gave the gift of reading."
Appleton then spoke, insisting that the credit rested with the extraordinary women who make up the program. She then recounted the program's many successes, including gift subscriptions of "Time for Kids" to 6,500 school children, as well as putting fans in schools, buying musical instruments and workbooks.
A teary-eyed Appleton concluded by thanking everyone, "This will be one of my happiest memories."
During the ceremony, a small group of angelic children from Alfredo Andrews Elementary sang two songs of appreciation for the Women's Initiative, which has given a significant amount of money toward the school's music program.
Andrews' principal Daryl Richards also took a moment to express his gratitude, "I have been really touched by your generosity and kindness," he said, joking that he always wanted to buy her a house for her efforts.
However, one of the most powerful moments came when a group of students from each elementary school lined up in front of Appleton to read aloud handwritten letters and present her with their own trophies of appreciation.
To end the evening, Gov. de Jongh asked Appleton to stand as the room applauded her loudly.
"Thank you for instilling in people that it only takes one person in our community—it doesn't take a governor or lieutenant governor to get something done. You did that," he said.
After the speeches, the crowd mingled, danced, laughed, and even cried as they said their goodbyes to Appleton.
"I am going to miss the island, the ladies and especially the children," Appleton said.
Dee Baecher-Brown, president of the Community Foundation of the Virgin Islands, promised that they will continue to aid in the success of the Women's Initiative and will help manage the books and donations, so that the program will not falter after Appleton's departure.
"It's going to be a real loss for the community and many of her friends. But as the governor said, many people think they won't be back once they leave, but they always come back," Baecher-Brown said wistfully.