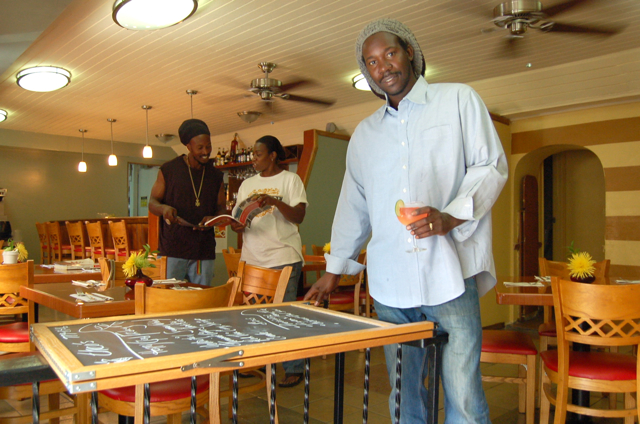 To say that Leslie "Theo" Gumbs is a busy guy would be a serious understatment.
Most days Gumbs can be found at his namesake restaurant, Theo's, which is a constant hive of activity. Customers pop in and out, some sitting down for a meal, others picking up takeout. The phone rings incessantly. Servers and sous chefs buzz in and out of the kitchen while the bartender deftly mixes and pours.
At the center of it all, Gumbs calmly keeps everything running. Without missing a beat he shoots the breeze with guests, gives instructions to the crew, and consults on the daily specials with his wife and business partner, Monica.
But the Caribbean-Thai fusion restaurant, which opened Feb. 14 on Back Street, is only one of the talented chef's many ventures. It's the crowning achievement of an impressive 20-year resume and the most time-consuming in a schedule that includes teaching, judging, competing, creating, and marketing Caribbean food – often all at the same time.
"I pretty much have my hands in a little bit of everything," he jokes.
Gumbs' passion for all things food-related began when he was a child. His mother owned a small cooking business in Hospital Ground, and he often helped her prepare food for concessions at Carnival, baseball games, and All Star tournaments.
But he didn't seriously consider making a living from cooking until high school, when he ended up in a culinary arts program at Charlotte Amalie High School after the carpentry program he originally wanted became full.
During his on-the-job training at the Charthouse and the Windward Passage Hotel restaurants, Gumbs realized he had a talent and flair for cooking, and decided to devote himself to it full-time.
"Under Paul Grybowski I learned how to prepare not only traditional West Indian food, but gourmet food as well," he said. "That piqued my interest in getting into the culinary arts."
After high school Gumbs began his lifelong practice of multi-tasking, opening both Gumbs Catering Service and his own catering trailer in quick succession while also holding down a job at the Ritz-Carlton. His catering company provided gourmet West Indian meals for government functions, private parties, and events around the island, while his food stand served up fresh gourmet fish and sandwiches in Red Hook.
In 1998 Gumbs moved to Georgia, where spent the next eight years. He initially worked at the Ritz-Carlton in Atlanta while studying at the Culinary Arts Institute, but eventually moved up through a succession of increasingly prestigious jobs at Ansley Country Club, Piedmont Country Club, Emory University, and finally Morehouse College, where he was personal chef to the president of the school.
In Georgia, Gumbs learned both the business and technical sides of the food industry, and mastered many different styles of cooking – including kosher cooking.
"At Emory they had a full kosher kitchen and I did a lot of kosher events," he said. "We made West Indian kosher food. They used to go crazy over it in Georgia. It's something I hope to tap back into as I move forward in my career."
Georgia is also where Gumbs developed and honed his signature Thai-fusion repertoire.
"In Georgia I fell in love with Thai cuisine and got the opportunity to work with several great Thai chefs," he said. "The combination of ingredients is compatible with West Indian food – the lemon grass, coconut milk, ginger, avocados and nuts. So I started experimenting and thinking 'hey, this goes well with our local snapper, this goes well with our local pumpkin,' and basically created my own fusion and my own method of incorporating Thai flavors into West Indian food."
In 2005, after coming back to St. Thomas for a six-month stint to help open Pilgrim's Terrace restaurant, Gumbs and his wife decided to relocate back to the island permanently.
"Theo had a good job at Morehouse at the time, but we just wanted to come back home," said Monica, who was also raised on St. Thomas.
His first venture upon returning to the island was to open Theo's Personal Chef Service, a catering company that pioneered the concept of taking high-end West Indian food into private villas.
"We were in the book, cooking for private villas," Gumbs recalled. "We were among the top recommended chefs on the island. And I was one of the only local executive chefs offering service in the villas."
As word spread about Theo's Personal Chef Service, Gumbs' plate started to fill up. He snagged government catering contracts, was invited to join the U.S. Virgin Islands Culinary Team, and, in response to customer demand, started his own line of sauces and marinades under the name Theo's Gourmet Caribbean Foods.
"Every time I'd make a sauce at an event people would come back to me and say 'oh, we want to have that thing that you done for us last time,' so I thought, I have to bottle this stuff!" Gumbs said. "I looked around at the market and saw that the demand was really good for that kind of thing. So I sat down, took a couple of steps back, and decided to formulate a food company to manufacture and distribute my own line of products."
As if that weren't enough, Gumbs has also participated in the Taste of St. Croix competition for the last several years as both a competitor and judge, works with the Department of Tourism as a culinary ambassador for St. Thomas, teaches culinary skills at the Ralph Wheatley Skill Center, and has a hugely popular booth every year at Carnival.
But the restaurant on Back Street is his latest pride and joy. Though Gumbs was already a very busy and in-demand chef, he felt compelled to open Theo's in order to bring his food to a wider audience.
"Before we opened the restaurant a lot of people locally enjoyed our food, but would have to wait all year long until Carnival to eat it, or hold an event that we could cater," he said."Repeat guests would come down from the States who we'd cooked for four or five years in a row. They'd say 'chef, you need to open a restaurant!' So the venture was strictly based on demands from clients."
"You dont have to be part of a group of 20 in a villa to taste my food now," he continued. "Now anyone can come and enjoy it!"
Both Gumbs and his wife admit their schedule can be grueling – they often work seven days a week for 15 hours a day or more, while raising three children – but they are both driven by their love for Caribbean food and for finding new ways to serve it up.
"I'm inspired by the naturalness and simpleness of food," Gumbs said. "Every time I look at an ingredient I think of 10 or 15 ways I can use that food: Can I make a custard? Can I make a pie? Can I make a tart?"
"And I'm really intrigued with the different uses of food," he continued. "The local stuff we take for granted is the stuff I like to embellish and highlight. There are many flavors here we don't utilize enough. I like to get maximum usage out of local ingredients. I like to take foods you get at a local street vendor and embellish it so it can be sold at any five-star property. That's my passion, to show that our local cuisine is marketable."