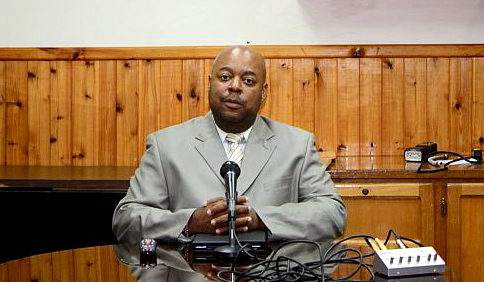 WAPA's Executive Director Hugo Hodge Jr. said the public can blame him for the power outage that blacked out St. Thomas last week, but should credit the linemen – who worked for 30 hours during the emergency before taking their first break – for bringing the power back.
At a press conference Monday afternoon, Hodge explained the sequence of events that led to the outage and the unusual circumstances that contributed to the probems.
According to Hodge, a motorist coming from one of the reunion events being held for Charlotte Amalie High School alumni last Tuesday hit a tree, which hit a pole in the Frenchman's Reef area. That caused a power surge that reached all the way back to WAPA's plant, disrupting a few of its generating units.
Under normal circumstances the situation could have been dealt with quickly. But this wasn't normal.
The first generator to trip was Unit 23, which has been a problem unit for most of the year. Hodge said one of its quirks is that it has an issue responding to stress on the system, such as the car hitting the pole. Two other units fought to pick up 23's load but also ended up tripping, leaving the system "without any generation and an island-wide black out."
"At the same time, this same week, we're doing repairs to Units 11 and 18 so they were not in service," Hodge said. "So what you have is a shortfall of not only the units that went out of service but the units that were in service at this time."
Hodge said for the first time in decades, WAPA was on a maintenance schedule that would have allowed it to have all of its St. Thomas units online and ready to go for hurricane season. Because the two other units were undergoing maintenance the authority did not have the resources it needed to back up the surge.
"If we had 11 and 18 available we wouldn't have even had a day of outages," Hodge said. "We would have had the power back on in minutes. This is not a situation of not knowing what needs to be done, it's a matter of having the resources and the availability of units needed."
All units were on as of the time Hodge held his Monday press conference, and no feeders were out as of Friday evening. He added that the next step is to bring in some specialists from General Electric to deal with the ongoing problems to Unit 23, which he said "went down hard" and is having some "high vibration issues."
Down generators have always been a maintenance problem, which Hodge has said is helped along by $17 million in receivables from Gov. Juan F. Luis Hospital and the territory's street lighting program. But Hodge made sure to point out that the central government itself is debt free for the first time in decades.
"I can see there is a difference in the approach to paying the bills; we have had support from the governor," Hodge said.
But there are also those in the community who do not support WAPA and want to see it taken over by the federal government, Hodge said, adding that he found such comments offensive.
"It's rather insulting, to be honest, because the Water and Power Authority for decades has been asked to carry the bag," Hodge said. "It's like people are saying, 'we know we owe you money and we know you can't maintain your equipment, but we don't want the power to go out.' It takes a toll on your systems when you go that period of time without having the cash on hand to maintain your equipment."
Hodge also said those sentiments are a slap in the face to the "dedicated" workers of the authority.
"I don't even know what the federal government does when they step in and see that you're rotating two and three feeders out for two hours at a time," he said. "There's 18,000 customers out of power in Georgia and there's no federal intervention there right now. They work through the system and they get the power restored; I don't know if (receivership) is even considered."
With some members of the community also questioning what effect outages such as this could have on hurricane season, Hodge said that there is no correlation between the two events.
"WAPA has got nothing but accolades for our work on every hurricane that's come through the Virgin Islands," Hodge said. "But this is not that type of an outage. It's not because a pole went down, that is what triggers a problem on the generation side. When a hurricane comes in, most of the times you have a problem on the generation and transmission side. And generally, the most trying time for the generation side during the hurricane is that first day of getting the units restored."