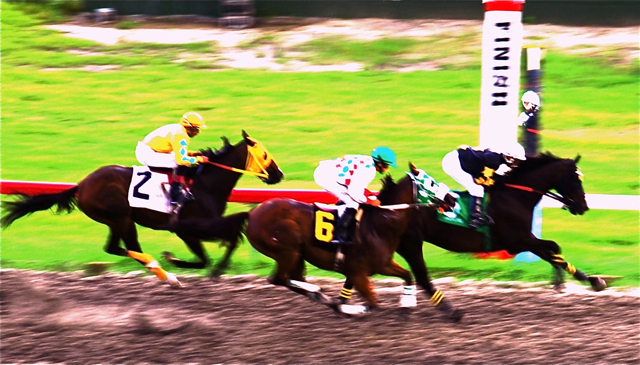 For trainer Elvis "Muds" Davis, the advice for jockey Angel Viera was pretty simple as they led Cherokee Law to the track for the "The Who's Yo Daddy Classic" Sunday. "Put him on the lead and let him take you as far as he can go."
It turned out the seven-year old gelding with the up-and-down history took Viera all the way.
Cherokee Law broke on top and did not look back as he led from start to finish to capture the one-mile featured race in a very good time of 1:37.3 at the Randall "Doc" James Racetrack.
Cherokee Law set all of the early fractions as he took the field around the track. He was tracked for most of the race by the speedy Groomsman, but the latter could not go on when his jockey asked him for more around the far turn. Eire's Run, with jockey Miguel Sanchez in the irons, took up the challenge and, after running by a tiring Groomsman, set his sights on the front running Cherokee Law.
As they turned for home at the top of the stretch the battle was joined and many expect Eire's Run to run down the somewhat inconsistent Cherokee Law. But Law was firing on all cylinders Sunday and no one was getting by him.
The crowd rose and roared as the two horses flashed down the stretch. Cherokee Law held on by a long neck for the wire to wire victory. Groomsman, with jockey Sunday Diaz aboard, was a distant third.
In the sixth race the eight-year old gelding Black Jack Bob continued to impress as he came from off the pace under jockey Edwin Gonzales to win his fifth race in a row. Black Jack Bob came to the territory highly touted and won his first race convincingly, but after suffering a debilitating internal injury he was never quite the same until his recent turnaround.
Sunday he negotiated the 7-1/2 furlongs distance in a time of 1:32.2. Green Sand was second with Angel Viera in the irons and Finish in Style with jockey Sunday Diaz up got third.
Race1
5 F Classes N-5 & N-6, Jockey
Time: 1:01.4
1. Super Pop, Winston Hurst
2. Midnight Approval, Miguel Sanchez
3. Joe Boss, Elmo Barnes
Race2
7F Classes I-4 & I-5 (M/F) & I-6 (C/G), Jockey
Time: 1:28
1. Rasta Queen, Winston Hurst
2. Cool Light, Myris Rivera
3. Pasodefango, Mickey Nieves
Race 3
7F Class I-5, Jockey
Time: 1:26
1. Winning Actor, Christian Soto
2. Wekiva Trail, Angel Viera
3. Black Machine, Alberto Ojeda
Race 4
7 F Classes I-4, Jockey
Time: 1:26
1. Ala Cat, Miguel Sanchez
2. Halo Bordeaux, Christian Soto
3. Salty Glider, Edwin Gonzalez
Race 5
7 F N-2, N-3, N-4 & N-5, Jockey
Time: 1:28
1. Irie Ites, Christian Soto
2. Express to Cali, Winston Hurst
3. Emerald Star, Sunday Diaz
Race 8
7 F Class I-3(NWRS) & I-4 (M/F), Jockey
Time: 1:27
1. Rocky Miswaki, Sunday Diaz
2. Sarasota May Bell, Winston Hurst
3. Destiny Arrival, Christian Soto