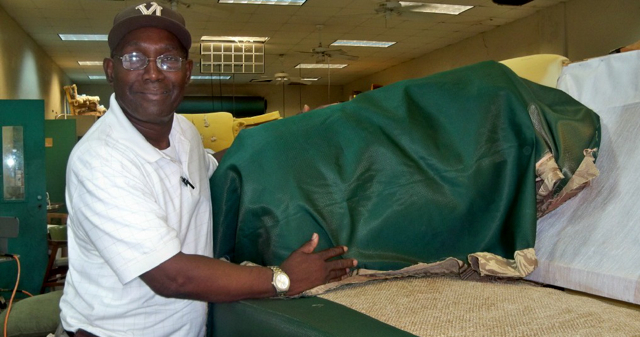 Federico Brown, a Pentecostal minister, preaches every Sunday at Golden Grove Adult Correctional Facility and sees firsthand what life in prison is like. So he is determined to help youth stay out of prison.
He hopes to accomplish that both by teaching kids a trade in his class at St. Croix Career and Technical Education Center and through his ministry.
"We need to teach students to become independent entrepreneurs and start cottage industries and small factories," Brown says.
He believes youngsters can get off the street if they think about making money in technical careers and not selling drugs.
"They can work for themselves and work from home," Brown says. "It is that simple."
Brown has been teaching upholstery and drapery making at CTEC since the doors opened in 1995.
He learned the trade at Robert Technical and Trade School in New York and worked in Saks Fifth Avenue's interior design department. He visited St. Croix and liked what he saw, so, he moved here in 1981 with his wife, Alexis, and began teaching upholstery classes at different locations.
Brown says he is thankful his grandfather, who did construction on the Panama Canal, taught him how to use a hammer when he was seven. He says it's important to start to train children young on how to use basic tools and get measurements.
"It is almost too late to teach them when they are in vocational classes in 11th grade," Brown says.
"The best part about teaching is seeing how proud the students are when they have completed a project from beginning to end," Brown says.
He brings to the prisoners a message focusing on their past, their present and their potential future.
At the prison Brown greets the inmates with a care package of toiletries and has them fill out a questionnaire about their religious practices and family information. Brown also will minister to the inmates' families, encouraging them to attend services in their neighborhood churches and to get their kids into youth programs.
He is affiliated with the Son of Justice Church in Castle Coakley, Word of Life Ministries in Estate Humbug, and the St. Croix Ministerial Association.
Brown is afraid the territory is headed towards becoming a third world country. He is from Panama and has traveled the Caribbean extensively, so he says he has seen it all and can make comparisons.
Ministering to homeless people and giving them sandwiches is what he does in his spare time. To the needy he offers counseling and clothing he picks up at the Red Cross. He helps out any way he can at Ten Thousand Helpers shelter for men. He gives workshops on upholstery at the annual Men's Carousel held at CTEC and at the Youth Rehabilitation Center. He has been active for the past ten years in the Christian Mens' Retreat ministering to a group men from different walks of life who had been involved in crime.
"I'm working for God here," Brown says. "The harvest is plenty but the workers are few. God will supply all my needs."
Brown is organizing a tool-handling workshop for youth that will take place the beginning of July at Word of Life Ministries. Call 514-2395 or 773-8010 for more information and to register for the workshop.