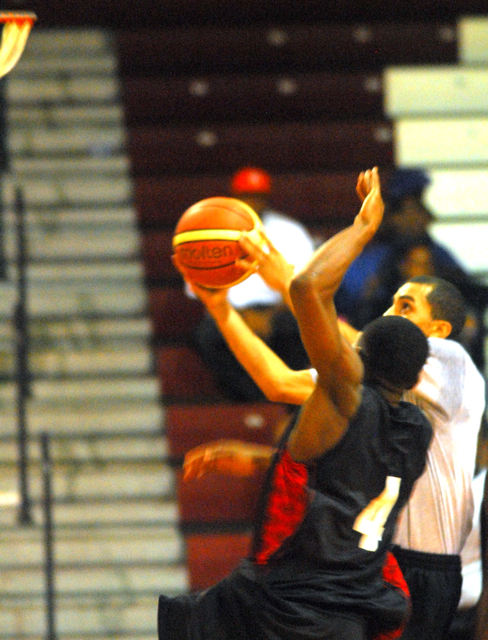 The New Breed Basketball League 2011 season was delayed for a day by a power outage, but when play finally got under way Saturday at Central High School's Ronald Charles gymnasium the Lakers and Boys Dem brought plenty pf their own energy.
The Lakes blew out Working Together, 93-55, in game one, and Boys Dem wore down a game but overmatched Legacy squad, 97-85 in the late game.
Lakers 93, Working Together 55
Six Lakers scored in double figures as they blew out Working Together by 38 points. The halftime lead was only 10, at 37-27, but the Lakers came out on fire in the second half, erupting for 56 points while their defense held Working together to just 28.
The Lakers were led by Robert Duck and Razeem Huggins with 14 points apiece, while Charles Moorehead, Ronel Harris and Emani Chihuazye contributed 13 points each. For Working it was Shamari Francis leading with a team high 11 points. Omaree Brooks finished with 10.
Boys Dem 97, Legacy 85
Boys Dem outlasted a game but slightly overmatched Legacy team 97-85 in Saturday's late game. Just about every run Legacy made was turned back. Boys Dem coach Keith Swanston had so much confidence in his player during the game that he was substituting five at a time in some cases. Legacy hung around, playing spirited basketball down the stretch, but fatigue took its toll in the end.
Wilson Ferrance led 10 Boy Dem players in the scoring column with a game high 24 points. Three teammates were in double figures with Joaquin Francis, Amadeus Derweer, and Terrel Christian scoring 14, 12, and 11 points respectively. Four Legacy players finished in double figures, led by Robert Perez with 20, Bobby Evans with 19, and Sean Tutein and Craig both finishing with 17 points apiece.