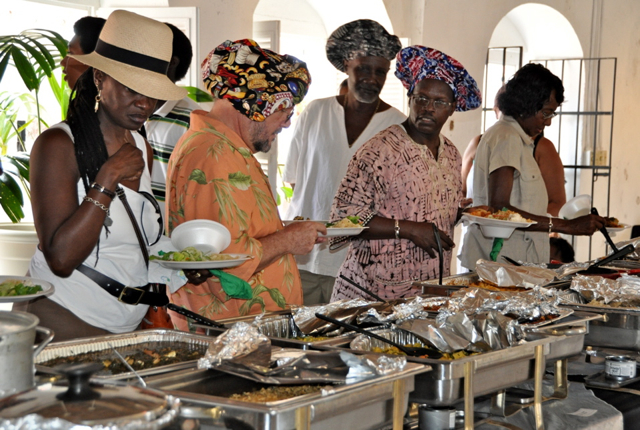 Add soup, salad and dessert prepared by local dads and what do you get? A recipe for a perfect Father's Day, which was celebrated by throngs of people Sunday at Fort Frederik Museum.
The luncheon, held from noon to 5 p.m., was a fundraising event for Ten Thousand Helpers of St. Croix, where men, women and children were invited to celebrate a day that rarely gets attention on the island.
"A lot of times men say we don't have any events to honor fathers, unlike Mother's Day, which has several events. Also, we wanted to take out the misconception that men can't cook, and give them a chance to change that paradigm," said board member Judy Bain.
Fourteen fathers cooked meals for the event, and as each stood up to explain his dish to the crowd, a colorful handmade chef's hat was placed on his head as a token of appreciation. Every time a dish was announced the women and children cheered. As the list of delicious items grew, an eager crowd began rubbing stomachs and licking their lips with anticipation.
Then, the crowd lined up to dig into the potluck style buffet, as the mouth-watering mixture of scents wafted through the air.
While Paul O'Neill was eager to share his homemade piñon with others, Kendall Petersen, who made a vegetarian lasagna, had mixed feelings about doing the event because of rising costs of food.
"When the idea came up to make a meal for all of these people, I was overwhelmed as a 35-year-old farmer and knowing the situation of food in the world. I would love to use only locally grown ingredients next year for the event," he said.
However, one thing was certain about the day, which included a dominoes tournament, dancing, and music by the band Siete Son; everybody went home with a full stomach.
The ordinary fathers who cooked up a storm are included with their menu items listed below:
• Robert Diaz: Black bean soup
• Cedric Bain: Potato salad
• Frederico Brown: Stew red beans, stuffing, Puerto Rican rice, green beans, and corn
• Kendall Peterson: vegetarian lasagna
• Benjamin Mjhila: fish filet and cabbage
• Harold H. Hodge: Seafood Kallaloo, Fungi
• John Bobby Logan: Curry chicken and rice
• Clinton Lang: beef bisque
• Angel Lindquist: Arroz con pollo
• Alfred Roach: Cocunut curry tofu
• Juan Figeroa Seville: Red bean stew and rice
• Generoso Miego: Mussels horse radish
• Keith James: Carrot cake
• Karswell George: Seasoned rice
Ten Thousand Helpers is a non-profit organization dedicated to serving the homeless and mentally ill across the territory. The chairman of the board, Nii Ahene-La Mettle-Nunoo, explained that it's important to make a change with impressionable youth of the territory and said that five extraordinary men would be honored at the event for their contribution to society and their dedication to working with young people – especially young men.
"Some of these men make a huge difference in people's lives: they mentor, teach and father young people with discipline and love, and they have changed lives throughout the territory," he explained.
Further information about Ten Thousand Helpers can be found online at http://www.tenthousandhelpersofstcroix.org/