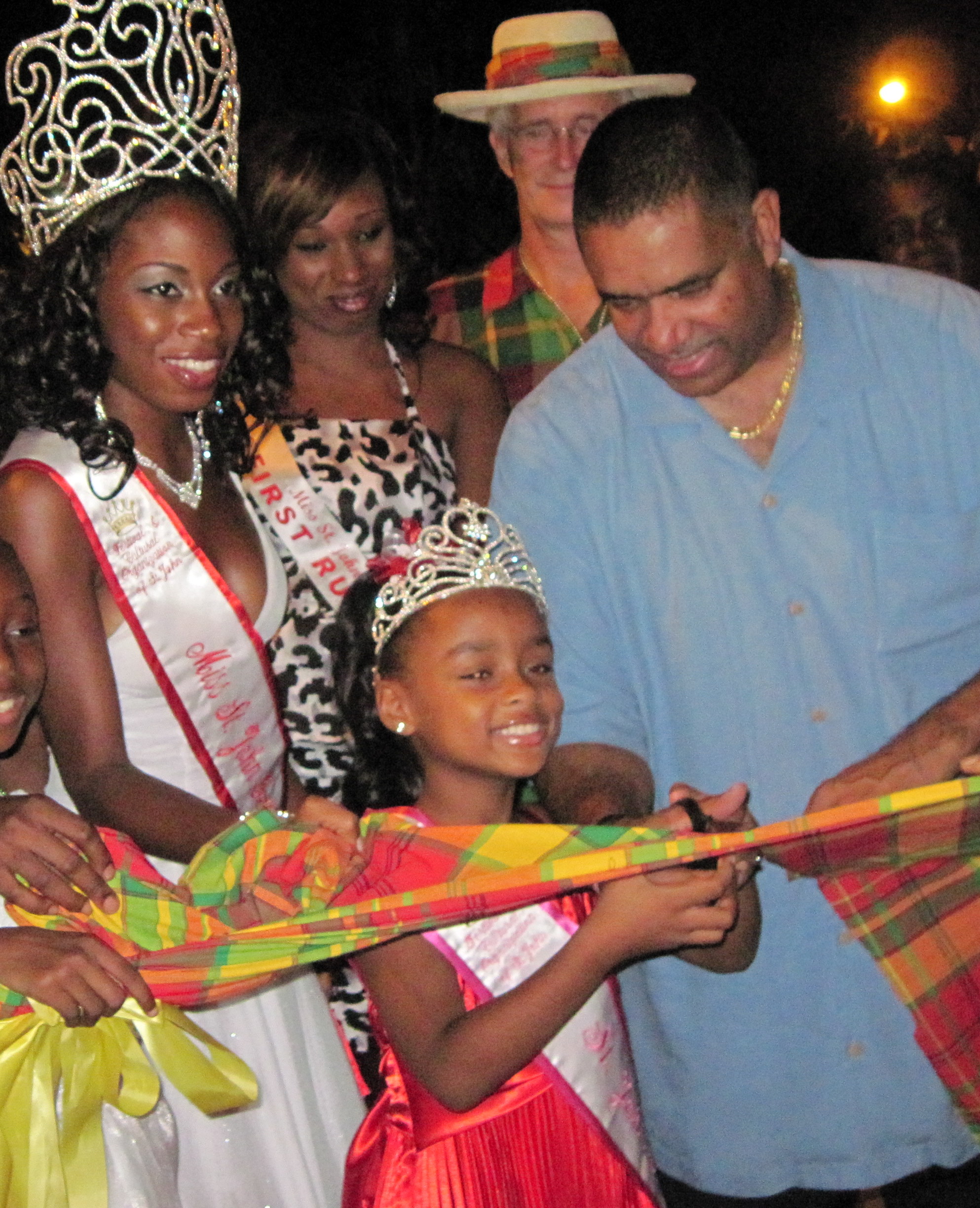 St. John moves into Festival mode this weekend with events Friday, Saturday and Sunday. Other events will be held the following two weekends with the entire shebang wrapping up July 4 with a parade through the streets of Cruz Bay.
"Come for the music, for the different local dishes you don't see every day and to meet friends you haven't seen in a long time," said Leona Smith, the island's administrator and chairman of the Festival committee.
Friday features the Senior Variety Show, beginning at 7 p.m. at the Winston Wells Ballfield. Committee chairman Jane Johannes said 14 "mostly" seniors from both St. John and St. Thomas will take to the stage to sing, dance and model swimsuits and evening wear.
"It's going to be a night of fun," she said.
The Festival Bike Race kicks off at 8 a.m. Saturday when an anticipated 20 to 30 participants are expected to cycle the 14-mile course from. It starts at the V.I. National Park dock in Cruz Bay, heads up Centerline Road to Coral Bay, back up Centerline Road to King Hill Road, and along the North Shore Road to finish at Hawksnest Bay.
"It's a great event," committee member Adam Thill said.
The competition will be keen Sunday when three girls vie for the princess title. The event begins at 6 p.m. at the Winston Wells Ballfield.
The contestants are Ajahni Jeffers, an 8-year-old third-grader at Guy Benjamin School, Ashyria Kelly, an 8-year-old third-grader, and Raven Phillips-Love, a 12-year-old seventh-grade advanced placement student. Both Raven and Ashyria attend Julius E. Sprauve School. All the girls live on St. John.
The Festival Committee's Enid Doway said there won't be a prince this year because no boy applied.
The following weekend, activities will kick off at 9 p.m. June 24 with a performance by reggae star Tarrus Riley and Others at the Festival Mix. It begins at 9 p.m. at Winston Wells Ballfield.
"You don't get these people here on St. John every day," said Lucinda Jurgen of the festival committee.
Judges will pick the Festival queen in a pageant that begins at 8 p.m. June 25 at the ballfield. Contestants include Charise Dowell, 17, Niesha Paul 17, and Kinia Blyden, 17. They all are recent Charlotte Amalie High School graduates and all live on St. Thomas. The fourth contestant is Akela Frett, 17, a St. John resident and recent Ivanna Eudora Kean High School graduate. St. John resident Kimberly Paul, 17, a junior at Ivanna Eudora Kean High School, rounds out the list of competitors.
Enid Doway of the festival committee said that not enough young women on St. John are interested in competing so the committee decided several years ago to open it up to St. Thomas residents.
She urged people to attend.
"These girls worked really hard. It takes a lot of courage to go out on stage and perform," she said, promising a "very interesting event."
The winner will be crowned at the Food Fair. It begins at 1 p.m. June 26 in Cruz Bay Park. Smith said if the park's reconstruction is not finished in time, participants will set up in the road that fronts on the waterfront or in the public parking lot across from the Post Office.
This year, Food Fair is named in honor of Joyce Sprauve.
"Joyce is known for her cooking. She's known for her pates and local dishes," Smith said.
June 26 also features boat races that begin at 1 p.m. in Cruz Bay Harbor. Organizer Glenville Ross said that because Cruz Bay has no viewing area such as is found on St. Thomas, the event is not a spectator spot.
He expects a bit more than the 40 entries that showed up last year. Classes include two for personal watercraft, 35 to 50 horsepower, 60 to 90 horsepower, 200 to 240 horsepower, big boats with unlimited horsepower, and offshore boats. Registration runs from $20 to $175 depending on the size of the boat. Prizes range from $200 for first place with the smallest personal watercraft to $1,400 for first prize for the offshore boats.
According to Ross, prize money is reduced over last year because the committee didn't get full funding from the government.
The Village opens at 7 p.m. June 29. It's named Wadeville after Ira Wade, the island's deputy Public Works commissioner and a long-time Festival supporter.
"He's a hard working individual," Smith said.
She also said that Wade's contributions to both the community and Festival are many.
The Village entertainment schedule is:
June 29: Cool Sessions Brass and Poison will play. June 30: Pumpa and the Unit and Triple K. July 1 El-A-Kru, Caribbean Musical Farm and Kes the Band. July 2: Spectrum, NuVybes and Shurwayne Winchester. July 3: Xpress Band and Daddy Jones and Crew and Small Axe.July 4: Ah We Band, Cool Sessions Brass, Spectrum and Roy Cape featuring Iwer George, Denise Belfon and Patch.
July 3 is Cultural Day, with activities starting at 3 p.m. in Cruz Bay Park, or if that's not available because of the park reconstruction project, on the stage in the Village.
Plans are still pending, but committee chairman Alecia M. Wells said she expects to have a youth drumming group on hand to play, a master drummer to demonstrate, the traditional blowing of the conch shell, and food samplers to give way.
"Sugar cake or cassava bread," she said.
Additionally, Wells said music will play throughout the day. Wells said Cultural Day will wrap up with a sunset tramp through Cruz Bay.
The final round of events July 4 starts with J'ouvert at 4 a.m. Bands wend their way through Cruz Bay streets with followers dancing the dawn away.
The parade begins at 11 a.m. July 4, starting at the V.I. National Park Ballfield, heading through the Cruz Bay streets past the waterfront and ends near the roundabout.
Natalie Thomas, who is organizing the parade, said she expects troupes and floupes from St. John and St. Thomas as well as majorettes from around the region. New this year is the V.I. All Stars Majorettes of Atlanta, she said.
This year, the festival committee selected Edna O'Connor Freeman to be the parade's grand marshal. Smith said Freeman, who was in charge of the Human Services Department's senior programs on St. John until she retired, made sure that the island's elders enjoyed the Festival. She said that in particular, she ensured that the senior bandstand was in place.
The fireworks begin at 9 p.m. over Cruz Bay Harbor.