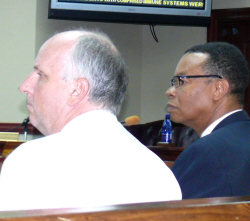 Hovensa's chief operating officer apologized for noxious fumes from internal oil spills May 13 and 14, but denied the plant was responsible for fumes that closed schools May 10 through 12, at a Committee of the Whole hearing Friday.
"We do not believe that our operations could have caused the odors that were reported on May 10 through 12 that resulted in the closure at Central High," said John George, acting chief operating officer of Hovensa. "That said, we know we were responsible for odors on May 13 and 14 caused by two weather-related overflows, and we deeply regret the concern this caused area residents"
George recounted the spills and briefed senators on the refinery's response and corrective measures, adding a few new specifics to what has been known so far.
On May 13, heavy rains caused an overflow of 39 barrels of oily water from the refinery's wastewater processing system. The rains also temporarily put out a pilot light and triggered a brief flair, but Hovensa does not believe that produced any odors, he said.
Refinery crews applied a foam surfactant of the type commonly used in fire fighting to suppress vapors, he said. They skimmed oil and used vacuum trucks to clean up the oil, water and surfactant mix, he said. On May 14, more rains caused 74 barrels to overflow and the refinery responded the same way.
The system collects oil and water from the refinery's equipment and processes, and storm water runoff at the refinery that may otherwise flush whatever oil is on the refinery grounds into the sea, he said.
Saying St. Croix has experienced episodes of torrential rain forever, Sen. Ronald Russell asked what why this particular event resulted in such a spill.
"We are in the process of finishing an environmental compliance project that requires additional pumps," George said. The pumps they had in place "could not handle the outflow," when storm water began to flow into the refinery's sewer system, he said.
Russell said the plant appeared very clean when he toured not long ago and asked how the waste system could collect, then spill so much partially refined oil as to cause fumes across the island.
"The underground system may have collected oily sludge over time that was pushed out when the heavy rains came," said George.
To prevent a recurrence, the company is now manning pumping equipment "round the clock so we can move quickly if heavy rains begin," he said. They are also doing extra preventive maintenance on the pumps to keep them in good working order during heavy rains and have hired specialists to make sure our pumps are in top working order, he said.
Since the human nose is affected by very low concentrations of some chemicals, they are contacting a nationally recognized expert in odor science to help them better understand how refinery operations impact the community, he said.
Asked by Sen. Janette Millin-Young why fumes would have affected schools at roughly the same time three days in a row, George said he had "no idea." The refinery operates continuously and its processes are timed by the duration of the various large scale chemical processes going on, not the clock, so he does not see any explanation related to the refinery that would make the odors occur at the same time repeatedly, he said.
Recalling that low levels of sulfur dioxide were detected at St. Croix Central High School on one of the days it closed for fumes, Russell asked if sulfur dioxide would be expected from the spilled oil.
"No, sulfur dioxide is a product of combustion. It does come from the refinery within the limits of our permit," George said.
At another point in the hearing, Russell pressed the point again, saying Hovensa produces sulfur dioxide while Diageo does not.
"The sulfur dioxide could not have come from Diageo, it comes from you," Russell said.
"Sulfur dioxide comes from any combustion," George responded. "I have not been able to find with two investigations within my refinery anything that could have caused that on the 10th, 11th and 12th."
More specifically, sulfur dioxide is produced by combustion of sulfur, which is present in small amounts in most organic matter, including molasses used for rum, and in large amounts in Venezuelan heavy, sour crude oil.
St. Croix Environmental Association (SEA) Director Paul Chakroff said the levels of sulfur dioxide recorded at Central High were potentially dangerous if they persisted, especially for those with asthma or other respiratory problems.
"The 15 minute continuous measurements reported by (DPNR) Commissioner (Alicia) Barnes exceeded the federal one-hour and 24-hour standards for SO2," he said. "I would like to see one-hour and 24 hour sulfur dioxide continuous monitoring for the entire period under investigation."
He disagreed with DPNR's assertion that sulfur dioxide becomes a health concern when it surpasses a continuous reading of 0.75 parts per million for 15 minutes, and hydrogen sulfide at 47 ppm for 15 minutes, pointing to much lower "tolerable concentration" levels for prolonged exposure for one to 14 days.
Chakroff and DPNR Commissioner Alicia Barnes both suggested more specific and more sensitive testing for some especially harmful chemicals, such as benzene.
After hearing from Hovensa, DPNR and organizations like SEA, Russell let a number of residents take the stand to testify briefly on their own experiences. Many raised general concerns about the long-term health effects of Hovensa and Diageo, as well as the "red dust" left from the old Harvey Alumina smelting operation on the south shore.
Several people gave anecdotal accounts of high cancer rates and questioned why there was little solid epidemiological data on the relationship between cancer rates and proximity to the refinery.
All shared their personal experience of the fumes and odors last week.
Andre Francis, a chemistry teacher at Central, said the fumes triggered a nosebleed that he had cauterized. "There were periods when we were gasping because the fumes were so strong," Francis said.
"I also was strongly affected by this gas on Friday the 13th," said Ezekial Clouden, a resident who lives near the refinery. Clouden said DPNR or Hovensa should provide more protective equipment, such as gas masks, for both the schools and the neighborhoods downwind of the refinery.
No votes were taken at the information gathering hearing. Present were: Russell, Millin-Young, Sens. Terrence "Positive" Nelson, Nereida "Nellie" Rivera-O'Reilly, Craig Barshinger, Alicia "Chucky" Hansen and Sammuel Sanes. Absent were: Sens. Carlton "Ital" Dowe, Patrick Sprauve, Neville James, Shawn-Michael Malone, Patrick Hill, Alvin Williams Celestino White and Usie Richards.