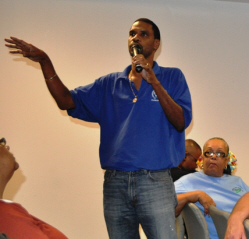 Amid the anger and frustration Friday night at the Gov. Juan F. Luis Cardiac Care Center Conference Room, at a free public screening of the documentary "Waiting for Superman," there was general agreement on one point: no charter schools for the V.I.
"Charter schools are not the answer, the system we have now doesn't work, and all we know is what we are doing isn't working," said panel member Bert Benjamin, the PTA President of Arthur A. Richards Junior High School. Instead, he said, "We just need leaders who will take responsibility."
Alice V. Henry, vice president of the Boys and Girls Club, said "If you move toward charter schools, than we would push the marginal students even further away."
After the movie, sponsored by the St. Croix Foundation, two high school students from the St. Croix Educational Complex stole the show when they addressed the panel after a fierce debate on St. Croix's failing schools.
Kemit Sweeney and Gerhard Steven Jr., who are on the Youth Advisory Council at the high school, stood up and grabbed the microphone with confidence after the panel held a question and answer session about whether public charter schools would improve education on the island.
"We don't need charter schools – it puts more disadvantaged kids in a worse situation," Steven said, who was followed by a passionate statement from Sweeney:
"There are generations upon generations of poor education. It just keeps being recycled, and we are teaching children of the future on the hands of the past. We need our voice to be heard; we, as students, have the answers and we are experiencing the education that you [panel members] speak of. Why not ask us?" He said, generating applause and a near standing ovation.
The documentary attempts to answer the question of why so many of America's public schools are failing. The film examines statistics from the 1970 to 2010 and looks at various aspects from low income high-crime urban areas, to legislation, like "The No Child Left Behind Act," and finally, the implementation and strict teacher union laws that won't allow tenured teachers to be fired. The film revolves around five children who are trying to get out of failing public schools by winning the lottery that would gain them entrance into more sought-after schools.
The crowd laughed, talked back to the screen, and dabbed tears of empathy at the end of the film, which left answers unresolved and the crowd fired up and ready to debate.
Also on the panel were Basil Williams, a 30 year teaching veteran of the Department of Education;; Danny Matarangas-King, an attorney with the Department of Justice who has spent years addressing juvenile criminals, and attorney Natalie Nelson, who was the spokesperson and mediator throughout the evening.
The national PTA President, Charles J. "Chuck" Saylors, who happens to be visiting St. Croix for the V.I. PTA State Convention addressed the crowd briefly about how to address change in the school system.
"This is my fourth time seeing the movie, and every time I see it, I get pretty damn mad. I look forward to the day the [kids in the movie] succeed. Elected officials don't listen, but who is to blame? We are. Who in this room is willing to do something to take the next role in changing the system?" He asked.
One parent who wouldn't give his name got up and gave a short speech blaming racism as the primary reason for failing schools. After he started reciting statistics about African Americans in prison across the country, including the V.I., he was asked to step down – but he didn't do so happily.
Kurt Vialet, principal at St. Croix Educational Complex, who recently gained notoriety in the news for a three day protest from students who heard word of his potential transfer to another school, addressed the potential reason for St. Croix's failing schools.
He explained that it's never a question of money in the territory, that all the schools have ample supplies, but too often the sense that "public schools are bad" force parents and teachers to develop poor attitudes. He then explained that St. Croix has a major problem with males abandoning their children.
"There are too many females left alone and way too many men with multiple kids. We just buried a 19-year-old last week who had five kids! We have multiple students who have lost a parent to violence," he said.
Vialet added that the island seems to be sending too many of the best and brightest kids off island to earn a degree and then the populace is doing nothing to bring them back, leaving the "bad kids" behind. Finally, he mentioned how the government is punishing kids for speaking up and used news of his upcoming transfer to Arthur A. Richards Jr. High School to illustrate his point.
"The kids walked out and finally spoke up about something they cared about, and they were punished," he said.
Later, after a crowd member posed the question, what is considered an adequate school? Matarangas-King cited his years of experience working with juvenile offenders. He explained that nearly all of 10th, 11th, and 12th graders who come into juvenile detention are asked to give an admission agreement. Matarangas-King makes them read the agreement, and then if they committed a drug offense, write a two page essay on the damages of drug use.
Ninety percent of those kids, he said, write one or two paragraphs, "with no concept of grammar, punctuation, or sentence structure," he said, adding "Do we have a problem, hell yes, we have a problem! How can a child leave your class and not be able to read?"
He added that social promotion in the classroom is what causes the downward spiral of poor education, and said that it from the "No Child Left Behind Act" which forced the classes to become inclusive and removed the ability for each student that fell below levels to receive adequate attention.
For more information about the panel discussion and the movie, contact St. Croix Foundation at (340) 773-9898.