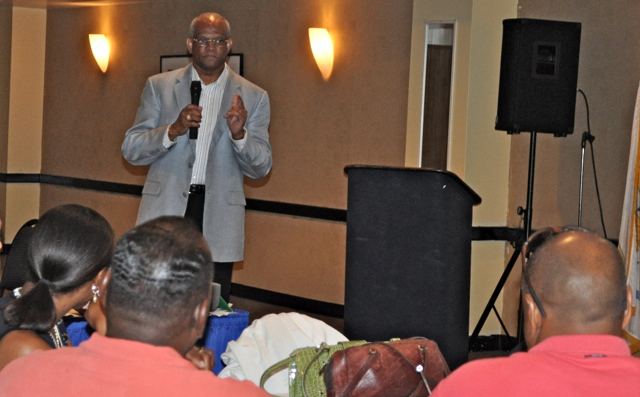 Commanding officers and enlisted personnel came together over the weekend with one goal – to make the deployment of V.I. National Guard units less stressful to both the soldiers and their families.
Approximately 70 volunteers, military commanders, and State Family Program staff converged on the Divi Carina Resort from Friday through Sunday for the V.I. National Guard Family Readiness Conference, a workshop and retreat with the theme, "The Spirit of Volunteering."
Linda M. Todman, who coordinated the event and is the state family program director for the VING, said there were really two workshops that were being conducted: the first ever five-year strategic planning event that began Friday night and concluded Sunday afternoon, and the annual VING Family Program Workshop, which began Saturday morning.
"We're looking at a five-year plan beginning from 2011 and going through 2015 and although this is the first year" of strategic planning, "we hope to continue it annually. In the workshop this year, we are hoping to build camaraderie and esprit de corps to get the commanders and Family Readiness Group volunteers and military points of contact to work with each other," Todman said.
The Family Readiness Groups (FRGs) are comprised of volunteers who create activities for military members and children. They serve as a support network for military members who are deployed, and they often offer selfless services to family members coping with the difficulties of deployment.
In previous years, the commanders didn't attend the workshop and volunteers and military points of contact seemed to have communication difficulties working with the 17 different commanders. More than half of the VING's commanders took part in the conference this year, which organizers hope will provide better communication with FRGs in the future.
Several of the workshops included participation from the commanders, and they were able to offer dual perspectives to the groups. For example, Capt. Arthur Hector, commander of the 661st Military Police Company, was able to give three different perspectives of what a deployment is like for a soldier, commander, and a commander in touch with a strong FRG. Having deployed three times, (Iraq, Guantanamo Bay, and Kosovo), he explained that having a strong FRG is really essential for the success of soldiers during a deployment.
"When soldiers are deployed, we must have the support of an FRG to help the troops," he said.
Hector further explained he could see a vast contrast between his deployment in 2006 to Guantanamo and 2009 to Kosovo: his soldiers coped much better when they had a strong FRG. They received more care packages and the FRG was able to deal with the families directly, which helped soldiers not worry about events at home.
Maj. Gen. Renaldo Rivera also attended the conference and agreed that having communication with an active FRG is the key to a successful deployment.
"I depend mostly on the FRG to keep the ball rolling and to keep interests of soldiers who are away on deployment. The program we have in the V.I. is second to none," he said.
Another 10 to 12 people came from St. Thomas to attend the conference. One of them, Spc. Curley Mility, serves as a military point of contact and acts as a liaison between the FRG and commanders. He said that for his first FRG training, he thought that it was very informative and it gave insight to why commanders must have an active FRG.
Several speakers focused on maintaining a successful FRG and keeping the volunteers happy and energetic. Two National Guard Bureau representatives, Pam Lindenmeyer and Deanna Cole arrived from Florida and Pennsylvania respectively to offer their training advice.
"I have a dual role here – one in strategic planning and helping their advisory council, by taking a grassroots level approach on finding out what will work for the VING, but also I am here to teach volunteers how to use the Joint Services Support interface," Cole said.
Many volunteers seemed to struggle with the internet support site – JCC – and were excited to receive hands-on training and advice on how to make their experiences better. The site offers a way for FRGs to track volunteer hours and compile FRG spreadsheets for commanders to use.
One volunteer, Marjorie Ramos-Hurtault, who has been working as an FRG for less than a year, said she was thrilled to be able to have the training.
"I think it's very informative from a new person's perspective. I like web-based training, and really think the whole conference has been well done and the camaraderie has been great," she said.
Before lunch Sunday, the entire group met outside for group pictures with the general, followed by an emotional speech about "the spirit of volunteering" by the Lt. Governor's wife, Cheryl Francis, in which she explained how volunteers of the "stop the bleeding" campaign, can be tied to military families because violence affects everyone in the territory.
"It does indeed take not only a village, but an entire community, and in this case, an entire territory to raise our children," she said, adding "We are all united as a family; let's strengthen the bond of families with love."