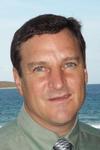 Adam Kloper, a
14-year veteran teacher at the
Ulla Muller Elementary School, is the territory's 2010 recipient of the
Presidential Award for Excellence in Mathematics and Science Teaching (PAEMST) for 2011. St. Thomas-St. John District Superintendent of Schools, Jeanette Smith-Barry said, "This prestigious award is given annually to K-12 math and science teachers across the United States who make outstanding contributions to their students and schools." Kloper is among 85 mathematics/science teaching professionals selected this year.
For the past five years, Kloper has taught kindergarten through sixth grade mathematics as the math teacher leader, and he had spent the previous nine years teaching fifth and sixth-grade mathematics. As a teacher leader, he ensures that quality instruction takes place in all mathematics classrooms, teaching model lessons, team teaching, and instructing and mentoring students. He organizes popular Family Math events, school-wide Math Exposés, and parent mathematics workshops. He also sponsors the honor society and coaches the MathCounts and chess teams.
Committed to island-wide mathematics education improvements, Kopler served as president of the St. Thomas and St. John affiliate of the National Council of Teachers of Mathematics. He attends and presents at several professional development activities annually and hosts a live mathematics television show.
Kloper holds a B.A. in elementary education from the University of the Virgin Islands and an M.S. in education with a specialization in middle grades mathematics from Walden University. He is a certified and highly qualified elementary educator in the U.S. Virgin Islands with an endorsement in mathematics.
Awardees for the PAEMSTare selected from mathematics and science teachers in all 50 states and the District of Columbia, with the competition alternating each year between kindergarten through sixth grade teachers and seventh through 12th grade teachers. The 2010 awardees were selected from K-6. After an initial selection process at the state level, a national panel of distinguished scientists, mathematicians and educators recommend teachers to receive the presidential awards. The award was established in 1983 by the Education for Economic Security Act and is administered by the National Science Foundation.
All national recipients will be recognized at an award's ceremony in Washington, D.C., May 17-20, and participate in a variety of educational and celebratory events. Each award recipient will also receive a $10,000 educational grant to be used at his or her discretion over a three-year period, and an all expense paid trip for two to Washington D.C. to accept the certificate.
Kloper said, "The Presidential Award is an honor synonymous with the generosity and wisdom of hundreds of people who truly made it possible for me and who continue to spread their gifts. Teachers encouraged me in my youth, others mentored me, and many inspire me today. Students motivate me daily. Their questioning and thirst for learning make me love my job. The Presidential Award recognizes not one teacher but all teachers and students who make educators always want to be worthy of this recognition."