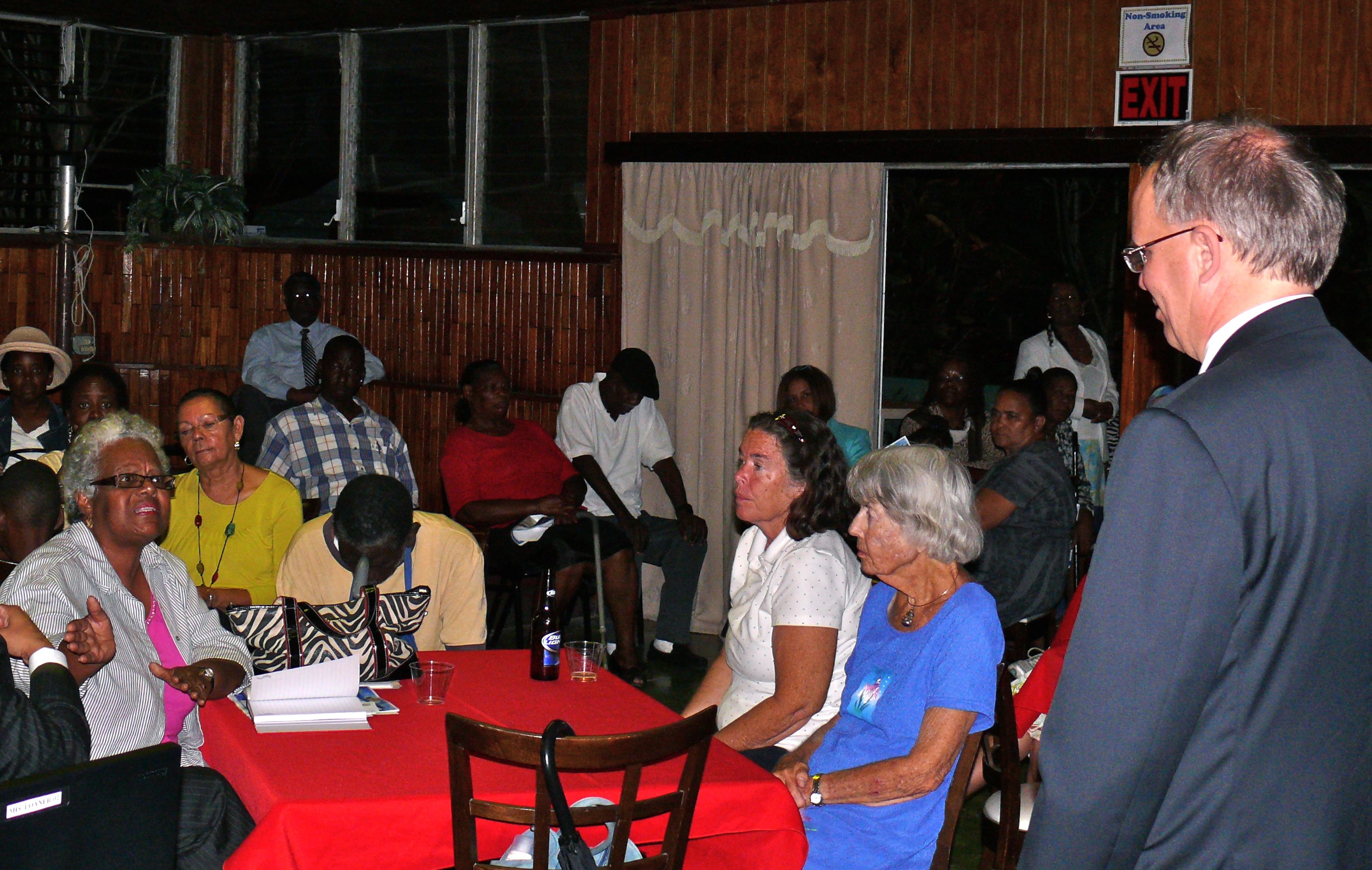 Frederiksted residents gave new Gov. Juan F. Luis Hospital Chief Executive Officer Jeff Nelson an earful about patients being moved from the hospital's kidney dialysis unit to care at the Caribbean Kidney Center, during a public forum at Villa Morales Restaurant Tuesday evening.
Nelson, a turnaround specialist with a track record of bringing struggling hospitals to profitability while improving measures of quality care, was hired in January. The hospital has been trying to fix problems cited by the Centers for Medicare and Medicaid Services in its dialysis unit along with chronic financial shortfalls due to a mandate to serve, regardless of ability to pay.
As he did at a similar forum last week at the hospital, Nelson asked the crowd what they wanted to see from their hospital and took questions from the crowd. And once again, Nelson said the hospital's goal was to become "the most trusted family-centered health care system in the Caribbean."
But some in the audience said trust was in short supply, and several took exception to the hospital's announcement last week it is moving 20 of its dialysis patients to the Caribbean Kidney Center.
"Where is the trust when you want to tell me where I can choose to have my dialysis?" said one woman.
Nelson said the hospital had no choice in the matter, and CMS "said we have to reduce the number of patients."
Amina Saleem and Kye Martin of the St. Croix Dialysis Patients Support Group both said they saw moving the patients as a "betrayal."
"We have 90, maybe 99 dialysis patients at the hospital, who are at the hospital every day probably more than anyone, and they feel betrayed by it," said Saleem.
Martin told Nelson he should expect some patients to refuse to move.
"If I were still on dialysis, I would be one of them," she said. After several years on dialysis, Martin had a successful kidney transplant over a year ago.
Nelson said the hospital would have to bring itself into good graces with CMS before it would be able to serve 90-plus patients again.
"Everything on their list must be corrected and will be corrected," he said.
Several audience members were upset that the hospital recently lost its only psychiatrist and had to move its in-patient psychiatric patients to St. Thomas.
"To me it is incredible that we are on an island, with one hospital and there is no psychiatric unit. Where are people supposed to go?" said Zulma Tanner of St. Croix.
The hospital had an average of two mental health patients in its unit, which "doesn't really address mental health care in the community," Nelson said, continuing that the hospital can help as a catalyst in the process, but is not set up to provide those services.
How soon, or whether, a new psychiatrist would be coming on board was under discussion, Nelson said.
Former Health Commissioner Vivian Ebbesen-Fludd, in the audience speaking as a citizen, said the Department of Health needed to be responsible for mental health care, prevention and similar services, while the hospital needed to focus on acute, emergency care.
"The hospital is not the public Health Department. … You are not responsible for outpatient mental health," she said.
Several in the audience shared stories of neglect and poor treatment at the hospital with Nelson.
"Nurses have to have more compassion and more care for the patients," said Frederiksted resident Claire Roker. Roker's aunt passed away at the hospital Jan. 28, she said. Before that, she struggled to get nurses to properly care after her aunt, she said. "I had to hire someone to come to the hospital and pay her $12 an hour to help out," she said.
St. Croix resident Dina Cruz told a similar tale, saying she would come to the hospital and bathe and clean her mother, then come back "and find her completely soiled."
Another former patient in the audience added that the rooms are kept too cold and that she was unable to get anyone to bring her a blanket.
Nelson listened attentively to all the complaints, asking for more questions and more comments, and promising that he and his staff would collect all of them and work them into their efforts to improve the hospital.