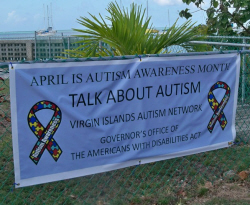 Stephanie Barnes, mother of a 17-year-old autistic son and founder of V.I. Autism Network, says much needs to be done in the territory to bring about awareness of autism.
"To fight the stigma of autism we need to replace it with knowledge," Barnes said Saturday. Saturday was World Autism Day and kicked off Autism Awareness month themed "Talk About Autism."
Barnes, who is also the V.I. coordinator for the Americans with Disabilities Act, said she doesn't have an exact count of how many children in the territory have autism. Barnes said if it was based on the statistics currently available nationally, which puts the figure at about one in 90 children with autism, the V.I. should have roughly 1,300 to 1,500 kids with the disorder.
"Parents refuse to have their children diagnosed," Barnes said. "And so many are in denial."
Barnes is talking and educating the public about autism in a number of ways.
She said in March she did a presentation on autism for the Department of Education Parent University and spoke candidly in front of a crowd for the first time about her life with an autistic child. She said it was like a weight was lifted off her after she stood up and told the truth about what life with her son Harry is like.
Barnes and Omer ErSelcuk, Seaborne Airlines CEO and president, want everyone coming and going from St. Thomas and St. Croix to make note of the awareness campaign, so autism banners were hung Friday at Seaborne and above major thoroughfares in Christiansted, Frederiksted and on St. Thomas and St. John.
On Friday, Barnes launched a monthly newsletter that she will distribute via emails and mailing lists. She says the newsletter will give a voice to parents. Barnes also holds monthly meetings for parents of autistic children, and she organizes an annual back-to-school kite flying jam in August to help raise awareness.
Coming up is the 4th Annual Conference on Autism April 19 on St. Thomas at the conference center at the University of the Virgin Islands and April 20 on the UVI St. Croix campus Great Hall. It is sponsored by Virgin Islands University Center for Excellence in Developmental Disabilities and V.I. Autism Network.
There are other programs relevant to autistic students such as an Applied Behavioral Analysis (ABA) Workshop on St. Croix and St. Thomas the beginning of May. ABA is well-established as an effective treatment for autism which systematically uses interventions based on learning theory to improve socially significant behaviors. This training is for parents, educators and professional service providers.
For more information, to make a donation or to volunteer call Barnes at 626-3330.