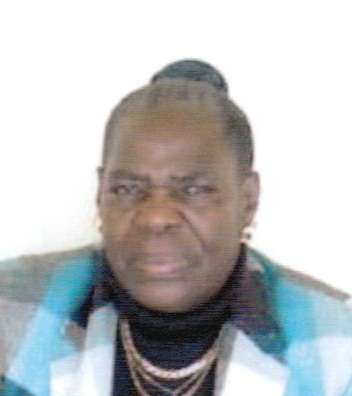 Florenstine Evangline Harley, also known as "Ms. Mills" or "Flo," died at age 73.
She is survived by her daughters: Jacinth Rubaine, Dale Best and Astruda Williams; adopted daughter, Beverly Greenidge; sons: Alphonso Boyd, Leroy and Anthony Harley; grandchildren: Charles Newton, Kareem Nisbett, Mark Nisbett, Lanval Gordon, Jahmal Pereira, Rashad Pereira, Malika Boyd, Denika Boyd, Noeka Boyd, Noel Boyd, Tristan Harley, Tenika Harley, Kasmira "Kassie" Best, Myriah Best, Brianna Best, Stephen James, Nigelleta Wattley, Anthony Harley Jr., Antoine Harley, Larry Williams, Esthena Wenham, Denise Greenidge, Vinecia Greenidge, Vincent Greenidge Jr., Enisscia Isaac, Melvina Krigger, Sindy Dover and Tia Hazel; and great-grandchildren: Ashely T. Newton, Chelsey Newton, Lanise Nisbett, London Gordon, Dashawn Pereira, Lowel Thomas, Mahalia Thomas, Tyana Hassell, Amarhi Greenidge, Preston Greenidge, Viquaine Velasaquez and Jaydecia Smith.
She is also survived by sisters: Violet Rogers, Edith Turnbull and Emmy McIntosh; 14 nieces; six nephews; daughters-in-law: Onah Harley and Misty Dover-Harley; sons-in-law: Kevin Best, Antonio Williams and Albert Rubaine; cousin, Selina Gardner; special friends: Shirley Mulrin, Olovina "Pet" Charles, Elaine Fagan, Primrose Francis, Gloria Joseph, Ethlyn Hucthinson, Priscilla Simmons, Carlton Sutton, Mary Daniel, Ena Ralph, Mr. and Mrs. Charles Nelson and family, Caswald Ible, the Innis family, members of the Altona Baptist Church; and other friends too numerous to mention.
There will be a viewing held at 9 a.m. and a funeral service at 10 a.m. on Saturday, March 5, at Altona Baptist Church. Interment will follow at Kingshill Cemetery.
All arrangements are by James Memorial Funeral Home Inc.