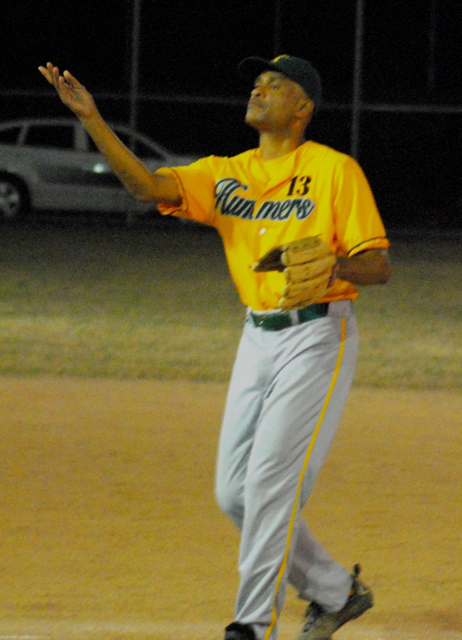 Two games were contested Thursday in the Bob Owens Slow Pitch Softball League the D.C. Canegata Ball Park, with Set It Off and Stealers coming out on top.
In the first game, Set It Off came from behind to beat Softball Inc., 14-10, and the Seaborne Stealers needed three double plays and the league's first triple play to beat the Diageo Hummers, 6-3, to extend their 2011 winning streak to 10 games in the night cap.
Cartel forfeited game two to Anchor Dive.
Set It Off 14, Softball Inc 10
Softball Inc. started the New Year atop the standings of the Bob Owens Slow Pitch Softball League but has gone into a freefall since the start of 2011. Their woes continued Thursday when Set It Off, trailing 10-7 going into the top of the seventh inning, rallied for seven runs to take the lead for good at 14-10.
That score proved to be the winning one as Softball Inc. failed to answer in the bottom of the inning. Set It Off scored 14 runs on 13 hits and two errors, while Softball Inc. finished with 10 runs on 10 hits and four huge errors.
Julio Carmona got the win for Set It Off and Bill Harris took the loss. Top batters for the winners were Jose Burgos (2 for 3 with a home run and three RBIs) and Miguel Rodriguez (3 for 3 with two RBI). For Softball Inc. the hot bats belonged to Leanardo Reyes (3 for 4 with three RBIs) and Cody St. Pierre (3 for 4 with four RBIs.)
Stealers 6, Hummers 3
The defending champions Seaborne Stealers used a great pitching effort from their ace Samuel Ramos and excellent defense to beat the Diageo Hummers, 6-3, in Thursday's late game.
The victory extends the Stealers 2011 winning streak to 10 games and 14 straight going back into last year. It was not easy though, and the champs had to come up big defensively time and time again to hold the Hummers at bay. Three double plays and a triple play were a testament to the Stealers' defensive effort Thursday, and they were awarded with a hard fought victory.
The Stealers finished with six runs on eight hits and three errors, while the Hummers had three runs on nine hits and two errors. Jerry Vialet got the loss on the mound for the Guardsmen. Top batters for the Stealers were Ronald Schjang (2 for 3 with a home run and one RBI) and Enrique Soto (2 for 3 with a home run and three RBIs). Top batters for the Hummers were Sylvester McIntosh (2 for 3 with a home run and two RBIs) and Neil Davis (2 for 3 with a home run and an RBI. )