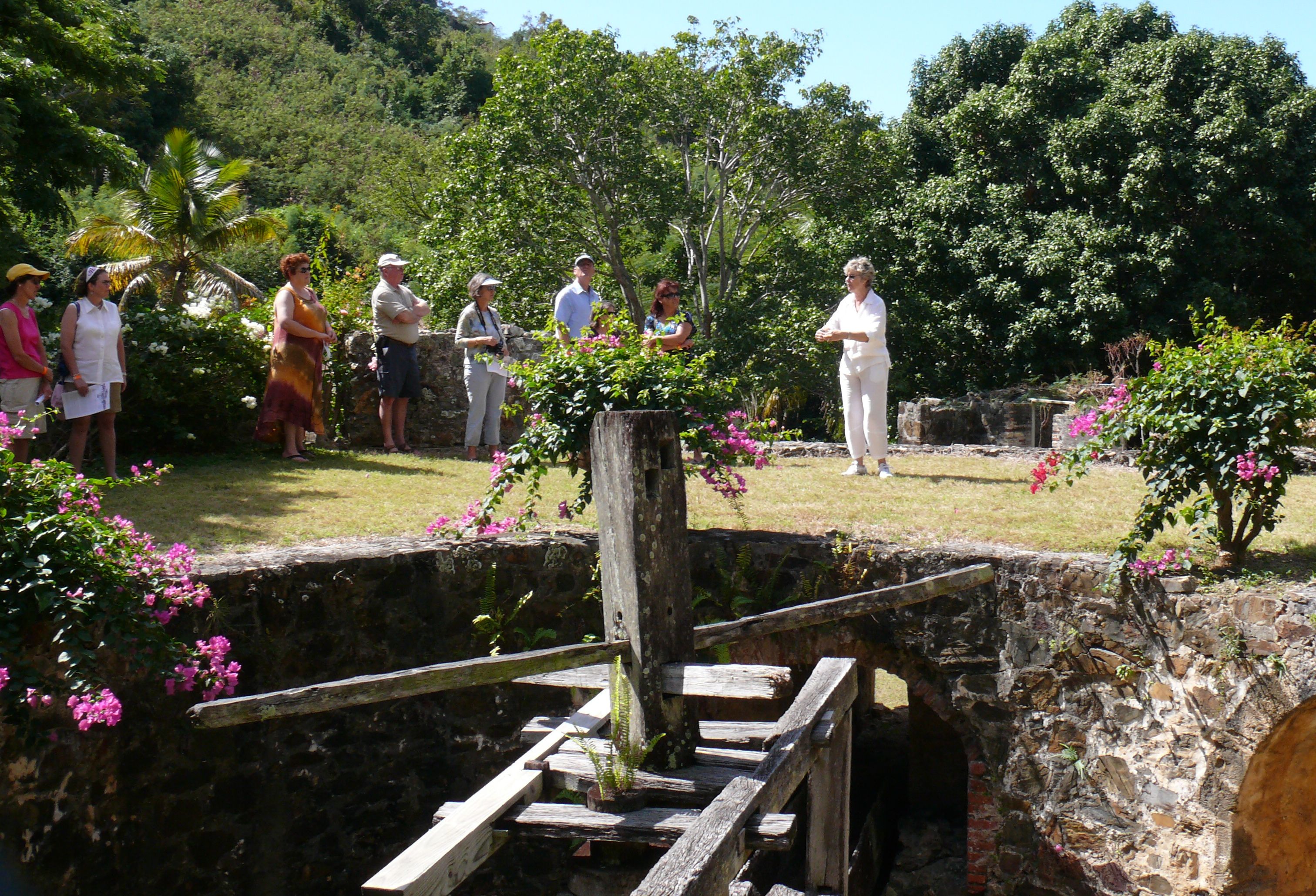 Three long lines of cars disembarked from Whim Museum Wednesday morning, making a long procession around Frederiksted then headed north to visit three of the most beautiful, elegant and distinctive homes on the West End of St. Croix.
The St. Croix Landmarks Society's annual house tours are under way this month, marking 56 years in a row for the popular, educational and fun fundraiser.
Since 1954, St. Croix homeowners have graciously shared their homes, furnishings and gardens with residents and visitors to raise funds for Landmarks. Each year tour devotees eagerly look forward to the opportunity to visit distinctive homes that reflect historic and contemporary elegance.
Ticket proceeds support the Estate Whim and Lawaetz Family Museums and other preservation activities, along with educational programs for children and adults, and Landmarks Society's Research Library and Archives, among the finest in the Caribbean.
First stop Wednesday was Bob Merwin's home at Estate Sprat Hall. Originally built in 1967 by Bob and Jean Merwin, the family added a pool and gazebo in the '90s, and recently added a porch and completely renovated the living areas, under the guiding eye of Merwin's daughter Rebecca Merwin.
But the home's big feature is what is arguably the best panoramic view anywhere n St. Croix: overlooking the whole of Frederiksted and the entire west end of the island from Sprat Hall to Sandy Point.
Next the caravan moved on to Nancy and Tony Ayer's home and grounds at Estate Mount Washington. The Ayers have partly restored the ruins of an old sugar plantation on the property, bringing in an antique wooden cane crushing assembly from Santo Domingo to help demonstrate how the old stone works were designed for sugar production.
Near where the sugar plantation's workers were housed is a circular labyrinth, marked with stones in medieval fashion, designed by Nancy. When she came to the property, she was mindful of the plantation's history of slavery and hence injustice and suffering, she said. She built the labyrinth as a spiritual response to what she sees as a sort of stain upon the ground and described it as a "sacred space built to bless, heal and restore the land as well as all who walk her path."
Tony said he felt privileged to be able to live among the ruins and play a role in their restoration.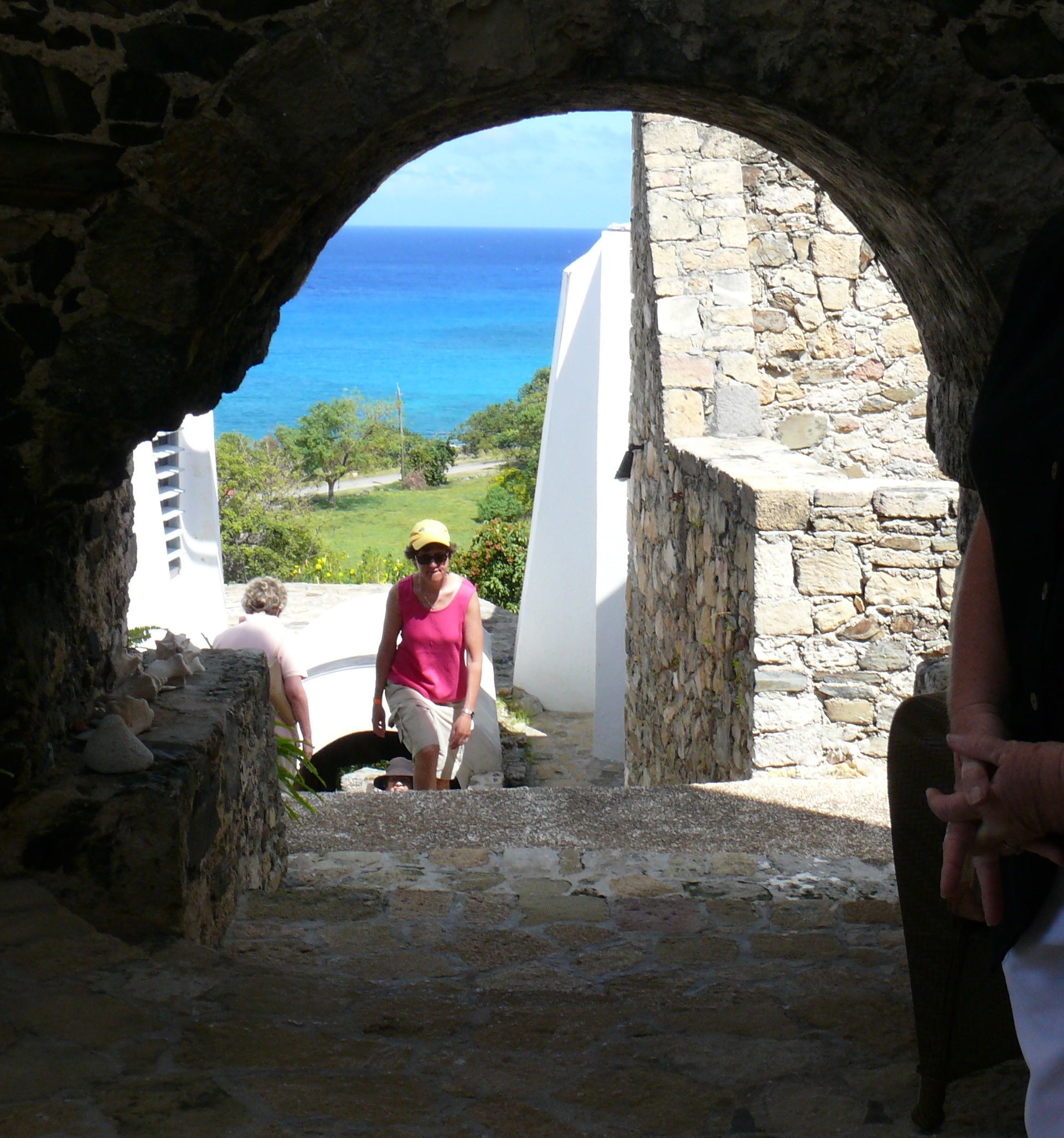 "I've lived here all my life, and the history is very important to me," he said. "It was quite surprising just how many have come to visit, and I'm glad because it offers some exposure to people who may have no idea of the history of the island. And it's a chance to showcase some of the magnificent homes we have on St. Croix while raising money for the museum."
The last stop was Mill Point in Estate Butler Bay. This gorgeous hilltop villa hosts picturesque weddings and unforgettable vacation getaways. It has six bedroom suites and a central "gran salon" built around an old Danish windmill.
Author Leon Uris conceptualized the home, which was built in 1970. On the 10-acre grounds are historically significant ruins of the Butler's Bay Sugar and Rum Factory dating to around 17897; a 1760 caretaker's home and one of the oldest and largest baobab trees in the new world.
Most of the large throng on the house tours were full- or part-time residents, out for a weekday lark. But there was at least one first-time visitor to St. Croix, too.
"I thought, what a lovely way to see not just the island but some of the history," said Christina Vanderlip, a visitor spending a week at a rental home out east, who heard of the tour from a neighbor who was planning to attend.
The final house tour, on Feb. 26, will feature four gorgeous and enticing estates out east, including one distinctive property called "The Cottage at Point Elizabeth," a cottage in Estate Turner's Whole built out on a tip of land jutting out into the sea popularly know as Grassy Point.
Conceptualized by developer Warren Mosler and built by architect Richard Bork, this house incorporates an array of environmentally friendly features, from using 10-foot long blocks made of recycled concrete and styrofoam cups, to a system that heats the pool by cooling the house. The house's decor includes original stained glass and locally handcrafted furniture.
Advance tickets can be purchased for $35 at the Whim Museum Store, Schooner Bay Market Place, and Curves on St. Croix. Tickets can also be purchased the morning of the tour at its departure point. The Feb. 26 tour departs 9:30 a.m. from the D.C. Canegata Ballpark, east of Christiansted.
The society's efforts do not end with the house tours. On March 6, the Landmarks Society will be having a live auction of antiques and collectibles. They are planning an "Antique Sideshow" that day, modeled after the popular PBS show "Antiques Roadshow," where St. Croix residents can bring in an antique and have it appraised for a fee. The all-day affair will begin at 10 a.m. at the Whim Museum.