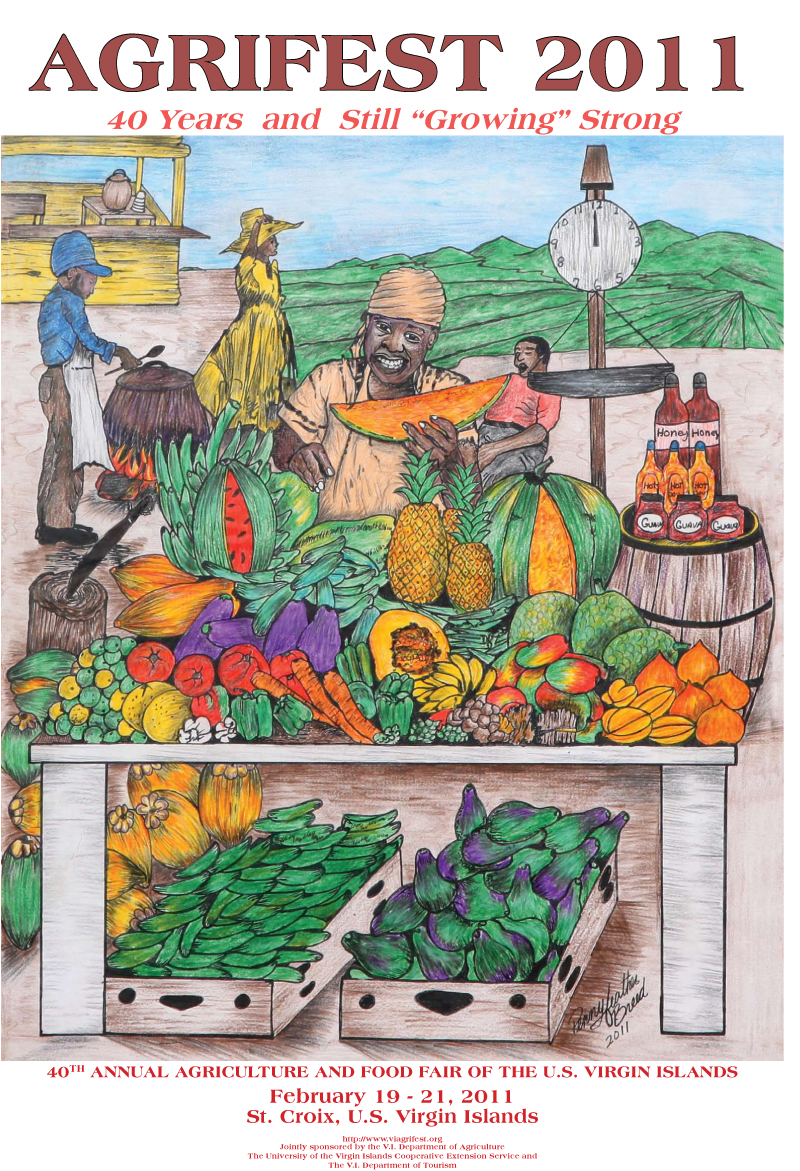 Colorful pinwheels spin cheerily in the breeze on the fence of the St. Croix Agriculture Department grounds while inside workers busily wield hammers, paint murals and put up tents all week long, making final preparations for the 40th V.I. Agrifest this weekend.
As always, there will be music, contests, all kinds of corporate and government displays, a petting zoo, the freshest produce, and lots and lots of food.
Throughout the festival there will be three stages with music, and several St. Thomas and St. John bands are coming over to be part of the entertainment, along with St. Croix's popular soca, salsa and steel pan bands.
And for the first time ever, Agrifest will host a youth calypso contest where each contestant will perform one original agriculturally inspired song. The show starts Sunday at 3 p.m.
As every year, there will be unusual food demonstrations, showcasing both local ingredients and culturally significant recipes. Lethie Castor of St. Croix will demonstrate how to make sweet potato pudding on Saturday; while on Sunday, Evannie Jeremiah will be showing how to make a breadfruit cheese pie and Louise Samuel will show how to make horse shoes: a crisp, crunchy pastry with sugar sprinkles in the shape of a horse shoe.
And 
Clint Ferris will be doing his ever-popular demo on how to make ice cream and sherbet using native fruits, too. 

There will be a public contest Sunday for the best soursop drink, and Monday for best ginger sugar cake, too.
In the main building more than 50 spaces will be filled by farmers with fruits, vegetables and other plants; and more than 30 spaces will be filled with schools and youth exhibits.
The University of the Virgin Islands Research and Public Service component, the V.I. Department of Agriculture and U.S. Department of Agriculture will be among the many organizations with tented displays.
The fair, which annually draws up to 30,000 visitors, is hosted annually by UVI's Cooperative Extension Service, along with the V.I. departments of Agriculture, Tourism and Health.
Gates at the fair open at 9 a.m. Saturday, with opening ceremonies at 10 a.m., where the farmer of the year will be named. After will be a quadrille dance that is open to all comers.
Other activities include Fair-Wear Fashion Show, Junior and Senior Calypso Shows, Donkey cart rides, and horse rides.
Gates are open Sunday and Mondayfrom 9 a.m. until 6 p.m. The entrance fee on all three days is $6 for adults, $3 for children and $4 for senior citizens.