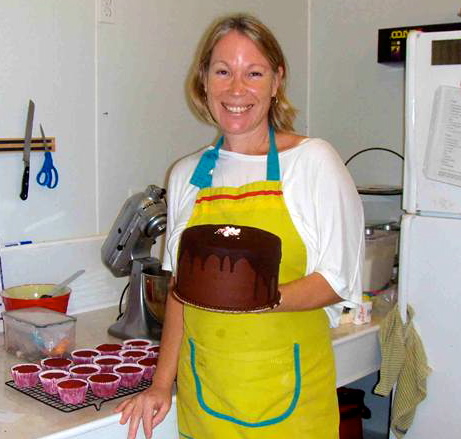 In the immaculate white kitchen on a hill overlooking Hull Bay, Elisa Lacatena expertly measures scoops of bright red dough, which in 20 minutes will become red velvet cupcakes.
Cupcakes fit for a king, or, as it turns out, a governor.
As she deposits each scoop into lined muffin tins, Lacatena instructs, "Not too big, not too small." She has taken time from her busy day to talk about her new enterprise, with one restriction.
"I hope you don't mind," says the engaging young entrepreneur of The Sweet Life Bakeshop, "but I must get this order out today."
The heady aroma emanating from the oven can be distracting. But Lacatena is not easily distracted.
"Organization is the key," she says, while sliding the blush-colored treats out of the oven and onto their place on the neatly arranged counter. "I'll frost them when they're cool and put flowers on them. I make the flowers myself, " she says, offering a precisely cut yellow daisy. "Here, try one, they're a sugar paste."
Lacatena grew up in the house where she, her husband, Michael and six-year-old son, Pascal, now live. Her parents, Clara and Francis Bryan, live next door.
"I grew up baking," she says, "helping my mom, cakes, deserts, and we made our own bread. So, now that I have a family, I want healthy food for them. I always make treats for Pascal to take to school, healthy whole-grain, blueberry bars. He is the envy of his classmates."
A graphic artist and painter for several years, Lacatena holds a fine arts degree from the Atlanta College of Art.
"But, "she says, "I was ready for something else. My friends pushed me to go out on my own, take this step. They said I could do it, so I did."
However, it wasn't quite that immediate.
"My friends were my guinea pigs for about six months as I tried my hand at professional baking. I thought it would be a fun, interesting thing to do," she smiles, "and it is."
The Bakeshop opened last May, with not only the encouragement of friends but the invaluable help of family. Though the bakery is her own creation, building the outside kitchen, just steps from the main house, was a family affair.
"My husband is a builder, so he built the kitchen," she says. "My uncle is an electrician, and my brother is a plumber."
"My first order was a party at The Preserve at Botany Bay," she says. (Full disclosure: Michael Lacatena is the property's manager.) "I got lots of business from that party, but I took it slowly at first, as I learned."
She prides herself on her healthy deserts. A good portion of her customers are from the island's large vegetarian community, she says, and vegans (no dairy, no eggs) as well. She has a vegan dessert menu ranging from a Persian cake infused with cardamom and topped with pistachios and rose petals, to comparatively humdrum chocolate cupcakes. Everything is custom made.
In fact, her offerings are exhaustive. Chai-spiced jasmine rice pudding, cranberry pistachio biscotti, lemon meringue cake, pumpkin-walnut cheesecake and, well, you get the idea. She can prepare anything from a simple loaf of whole wheat bread to the most elaborate wedding cake.
No square inch of the 20 feet by 20 feet kitchen is unused, from the shelves stocked with everything from tiny vials of spices and flavorings to a 50-pound sack of sugar, 25-pound sacks of whole wheat and white flours.
The Bryans are an integral part of the North Side French community.
"It's so nice with the family all around. We look out for each other," Lacatena says. "If Pascal wants to see his grandparents, he just runs next door."
Now, about the governor.
Lacatena was asked to cater the desserts for Gov. John deJongh's January inauguration ceremony at Emancipation Garden. Quite a feather in the cap of one who had not even in business for a year. She agrees, still kind of starry-eyed describing the experience.
"I was just so honored to be part of the inauguration staff," she says. "Everyone was so kind and helpful."
The order: 1,680 pieces.
"All my helpers were on vacation, so my mom helped – she's always a huge help," Lacatena says."I started five days in advance with the ordering. We made phyllo dough fruit cups filled with lemon curd and whipped cream, pecan tarts, apple tarts, red velvet cupcakes, chocolate almond mini-cakes, vanilla passion cupcakes and cookies with the governor and lieutenant governor's photos."
With a smile, she declines to reveal that process.
"My mom and I worked together stuffing everything into my SUV," she says. "Just one trip, literally filled to the last inch. Lots of coordination, but if you plan ahead, it's do-able." That statement sums up Lacatena's working ethic.
With that nod to efficiency, Lacatena is still on the lookout for new ideas."I spend an absurd amount of time testing recipes to get exactly what I want, adjusting amounts, flavors. I love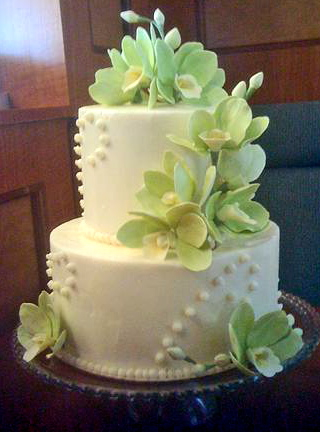 to invent new things, and I get to use my art background and be creative and have fun with it."
Of her new enterprise, she says,."One of the nicest things now, is when someone who knows me calls and says to just do it my way. They trust me. The most joy I get is seeing happiness on a customer's face when I deliver something that is beautiful."
The Bakeshop does no direct sales.
"I deliver everything for now, because we aren't zoned for retail," Lacatena says. However, a selection of her cakes and mini-cakes is carried at Marina Market in Red Hook.
For most orders, a two-three day notice is enough. However, wedding cakes or large parties require more time. Lacatena can be reached at 227-2654 or thesweetfifevi@earthlink.net.