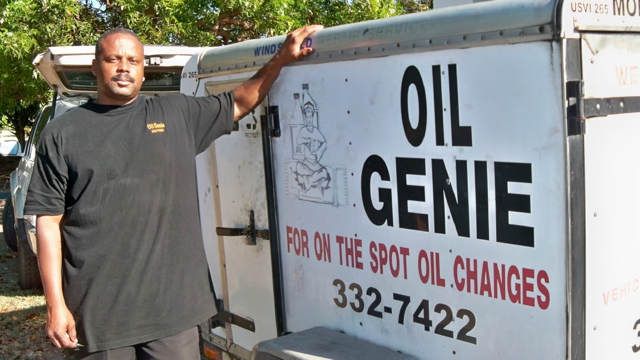 Can't find a convenient way to get an oil change? For on-the-spot oil changes Charles Francis will drive the mobile Oil Genie right to your vehicle for quick and convenient service.
"This is perfect for people who don't have enough time to drop off their car for an oil change or can't arrange for rides," Francis says. "I will work out a way to get to the customer at their home or work."
Francis says he heard of the concept and thought it was a really great idea. He figured doing mobile oil changes would be a good way tobe his own boss, make a living, and offer a useful service for residents.
He got started with an Oil Butler franchise out of New Jersey where he also had training. He says he really doesn't care to tinker with cars, but an oil change is quick and simple. He thought about calling his service Oil Genius, but he didn't want to sound too cocky. He says he liked Oil Genie because it has the right sound to it and it is catchy.
He just had a five-year anniversary doing business and he says he can't complain about anything. He is where he had hoped to be at this time. He has a lot of regular customers, who can't or don't like to change their own oil, and he has contracted customers.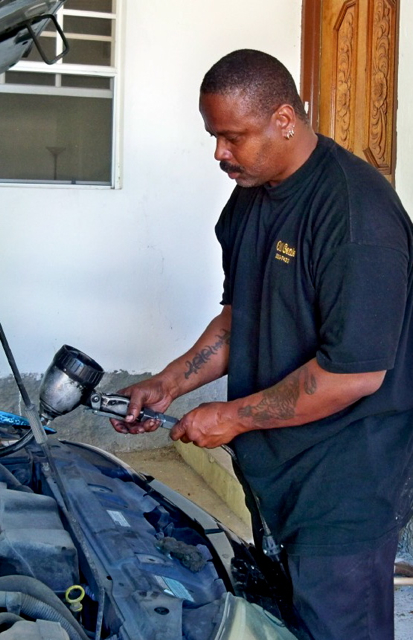 Francis is prompt, quick and efficient carrying everything he needs in his white trailer and sport utility vehicle. His uniformof choice is a black T-shirt embellished with a small gold embroidered logo and black baggy Dickie shorts.
He carries three different weights of oil in 37 gallon tanks and various oil filters. Francis checks and tops off fluids and looks at belts, hoses and lights to see if they are in working order.For the finishing touch he blasts compressed air over the engine to blow off dust and dirt. He says he doesn't work on Crucian time and it takes about a half hour for the job. He even has a printer in the back seat to print invoices he has done on a laptop computer. Francis charges $50 for up to six quarts and it is $58 for up to 10 quarts.
V.I. Regulated Waste picks up and properly disposes of or recycles the used oil Francis collects. There is a fee of $3 includedin the price for the disposal of the oil and he meets Department of Planning and Natural Resources' regulations.
Francis says the best thing about being in business for himselfare the flexible hours. "I love doing this and will do it as long as I am able to get around."
Those intrested can schedule an appointment by calling Francis at 332-7422.