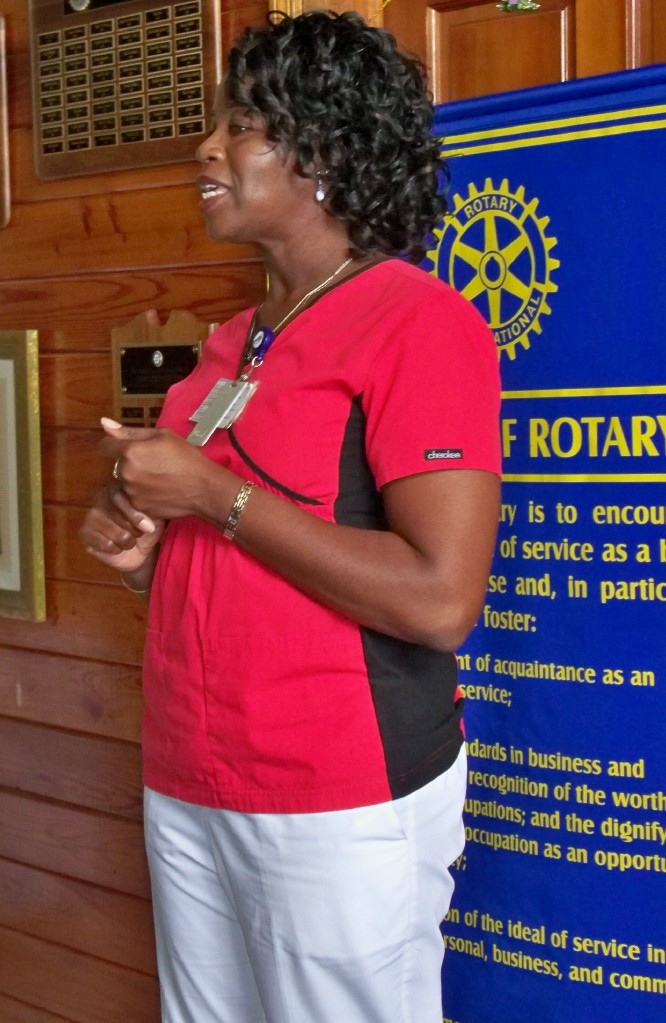 The Blood Bank at Gov. Juan F. Luis Hospital is in need of an infusion of blood. During a special meeting Thursday at Gertrude's Restaurant, blood bank technician Debra Andrews told Rotarians the bank doesn't collect half the amount of blood needed to meet monthly demands on St. Croix.
Around 25 members and guests of St. Croix Rotary and Rotary Club Harborside got the facts on donating blood. For starters, Andrews said they use 80 to 100 pints or units per month at the St. Croix Hospital.
It costs the hospital around $235 to purchase a pint of blood from the Red Cross in Puerto Rico. If it is collected locally, it costs just $55 per pint for testing. Andrews said there is no charge to patients for the blood because it is given voluntarily, but there is a fee for the infusion.
Andrews said the whole donation process takes around an hour, and the actual drawing of blood only takes around 10 minutes.
She stressed that it is all very safe and that donors get a "mini-physical." Technicians draw about one pint from donors, and the average person has 10 to 12 pints of blood. The body replaces the blood in 24 hours. Andrews said people can donate blood every 56 days.
"Don't wait until there is an emergency," Andrews said. "Please everyone, take this as a personal responsibility to donate to the blood bank." The bank is open at JFL Monday through Friday from 8 a.m. to 4 p.m.
The hospital's mobile blood unit will be at a blood drive Feb. 12 from 7 a.m. to 2 p.m. at the annual Health Fair sponsored by the two Rotary clubs and St. Croix Rescue. It will be located at the St. Croix Rescue training center and office near Five Corners.