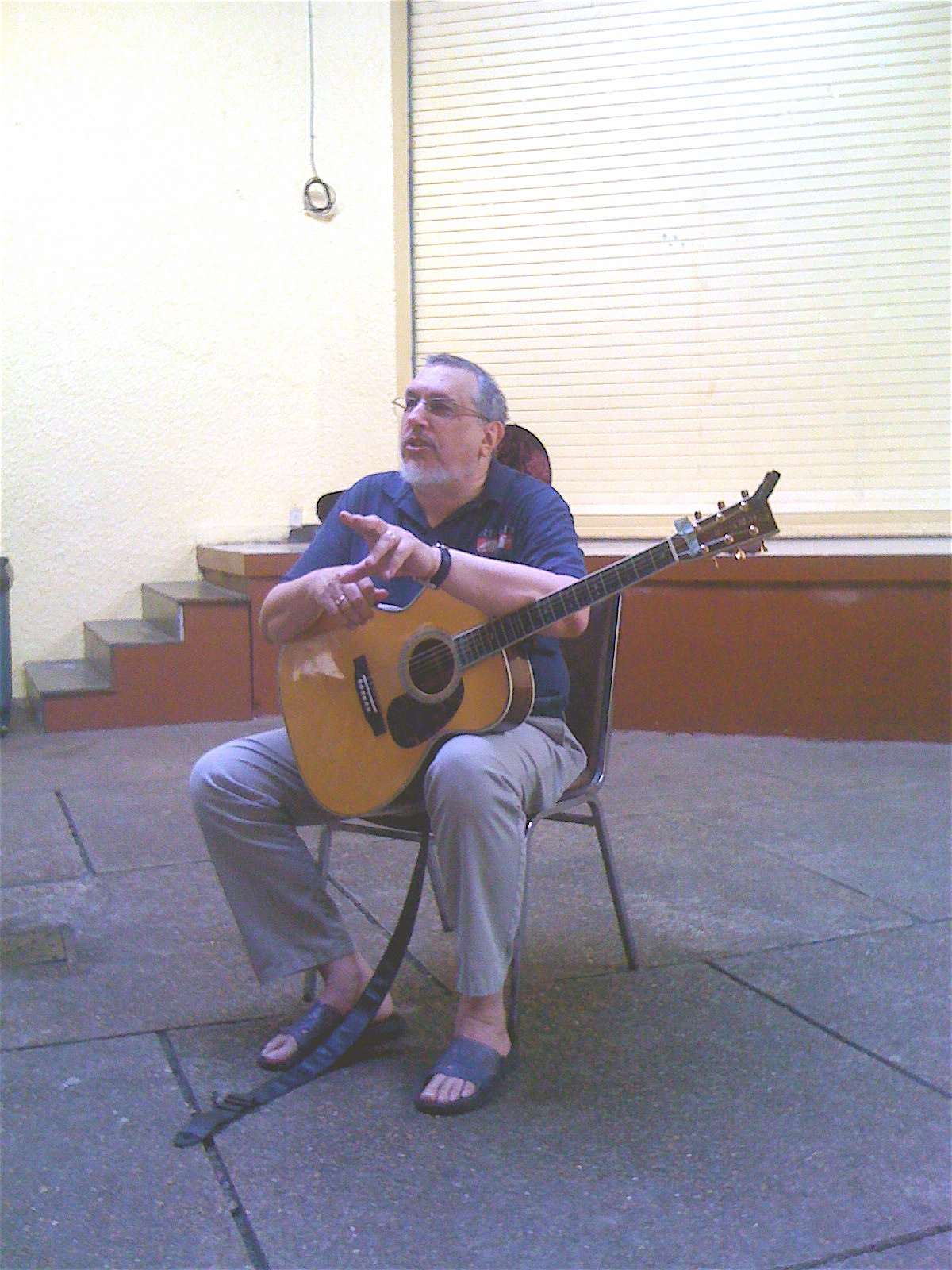 "This land is your land, this land is my land, from California to the Virgiin I-I-Islands, " boomed out V.I. elementary school students in a sing-along with master guitarist David Bromberg on Tuesday at the Emanuel Benjamin Oliver elementary school.
Fifty students from the school and a few-dozen guests from the Suzuki string program at the V.I. Montessori School and International Academy shared the early morning strumming and getting exposed to music as a possible career.
Bromberg, who will play at Tillett Gardens this Wednesday night, liked the V.I. version of Woody Guthrie's classic and also tuned in locally when he started his concert with a chat about how violins react to tropical weather.
Young violinists asked for and got advice on collapsed bridges, sticky pegs and pennies lost in violins. Bromberg, who owns a violin sales and repair shop with his wife, offered to continue to help the kids on repairs and needed parts.
Jamon E. Liburd, Oliver's assistant principal, said the students were delighted to sing along with the well-loved American songs. "I implore you to explore music and art and writing because you have great minds to do so," he told the gathering during his introduction.
He added that the school's teachers will incorporate Bromberg's visit into their learning plans in many ways, such as getting the kids to do research on guitars. "All students are exposed to music and music theory; and we have a choir, a concert band, and a steel band," Liburd said.
Tillett Foundation board member Bill Grogan, who helped organize the visit, noted that Bromberg used to play at his bar, Barnacle Bill's, decades ago. Grogan told the kids they would have many choices about work and said, "One thing you might think about is being a musician. Listen to your family and friends who are in bands."
Bromberg sang "Jennie Jenkins" as his finale, asking the kids to choose colors for him to make up rhymes. It only took a few rounds before they were all demanding orange and purple over and over again, challenging him to find the impossible rhymes. He tried to go for turtle with purple then sang, "I won't wear orange 'cos it rhymes with orange." Even the most serious air-guitarists in the front row shared in the laughs.
The concert was organized by the student outreach program of Arts Alive, the presenting entity of the Tillett Foundation. Artists performing in the Arts Alive concerts at Tillett Gardens are asked to take part in student outreach performances at local public schools.