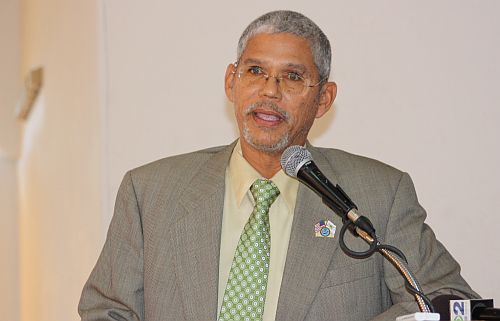 Calls from the League of Women Voters for the Legislature to trim its budget and act "more responsibly" with taxpayer money was met Monday by senators' denial that a recent St. Croix reception–highlighted in the local media–was a waste of time and funds.
Every two years, the League holds a luncheon for the incoming Senate, in hopes of presenting them with a list of concerns, possible initiatives and recommendations on how to streamline their operations. This time around, the watchdog organization took some of their cues from the State of the Territory Address and asked, in the wake of the territory's still dire economic conditions, that senators be "responsible and accountable" to their constituents.
"The League of Women Voters was disappointed by the recent news item about the very expensive social event held by the Legislature on St. Croix," Gwen Moolenaar, the League's interim president, said Monday. "At this time in particular, when financial sacrifices are being asked of everyone, elected officials should lead by example and show greater sensitivity and responsibility."
While the senators that spoke Monday had a variety of responses to the League's many other recommendations, most also took a unified position on the issue, saying that the Legislature is pinching pennies and held back on shelling out top dollar for the event, which Senate President Ronald E. Russell basically described as a meet-and-greet with St. Croix voters.
Senators didn't go to Frenchman's Reef or some other "expensive hotel," but rather got a discount on a venue and ended up paying $8,000 so that "people could come out and socialize with their elected officials," he said.
"You perceive that we're spending on ourselves, when it's the people that we're benefitting," he added, saying that an "overflow" crowd of at least 500 citizens attended the event on St. Croix, which was recently spotlighted on the front page of the Daily News, under the headline, "Senators Party, Taxpayers Pay."
Other senators also took issue with the accusations of misspending, saying that the Legislature had cut back so much they didn't even have tables at the St. Croix event.
Sen. Usie Richards, meanwhile, invited the League to compare how much it cost the executive branch to have inauguration receptions on all three islands for two elected officials to what the Senate paid to have two receptions — one on St. Thomas and St. Croix — for all 15 of its members.
On a related note, the League's request that the Legislature's growing budget be reduced along with that of the courts, was met with similar responses, as senators said that their spending has been scaled back in the past two years.
Russell, however, added that it might be time, as separate budgets continue to come down for the V.I. Superior and Supreme courts, to move back to a "unified" court system, while the rest of the government's spending could be line-itemed based on priority areas.
Russell said the Legislature's new executive director, Pamela Richards, comes in with a mandate to "deal with the budget of the Legislature in a frugal and inexpensive way."
"The Legislature is right on track," he added, saying that senators will revisit the budget issue after some major capital expenditures — such as revamping the Capitol Building on St. Thomas — are complete.
The League's wish list to senators also included recommendations for: stiffer gun fines and penalties; revisions to the Legislature's rules of preemption; giving the Legislature's voting rights on zoning requests to an independent board or commission under Planning and Natural Resources; setting up a one-tier system for development; and mandating the governor to seek reimbursement for, or a waiver of, the federal earned income credit, which Moolenaar said cost the V.I. government millions last tax year.
Much like all the other Senate luncheons held by the League over the years, there was also a call for the implementation of a comprehensive land- and water-use plan, which Sen. Richards explained that he has had authorship rights to for years, but is still waiting for DPNR to make revisions to the code that hasn't been touched in at least a decade.
Sen. Richards said to force the issue, he plans on introducing a development law that sets the "parameters" for land and water use in the territory.
Other senators also spoke about the importance of supplementing the local education system with vocational and technical schools, setting up more senior citizens homes, seeking out renewable energy systems that can actually be set up quickly and hook onto the V.I. Water and Power Authority's grid and reducing crime by sponsoring more preventive youth programs.
Sen. Shawn-Michael Malone also proposed that the Legislature do something different by setting a focused agenda for the year, with four or five priority items that must be tracked and dealt with by a certain time.
On another interesting note, Russell said the Legislature also plans on being more responsive to residents' concerns by making its website more interactive, with possible blog portals and a feature that could allow comments on prospective bills. The Senate hasn't done away with the rules of preemption, but moving forward, the public will know what bills each senator has sponsored, he said.
Senators attending Monday's forum were: Craig W. Barshinger, Louis P. Hill, Malone, Millin-Young, Terrence "Positive" Nelson, Richards, Russell and Patrick Simeon Sprauve.