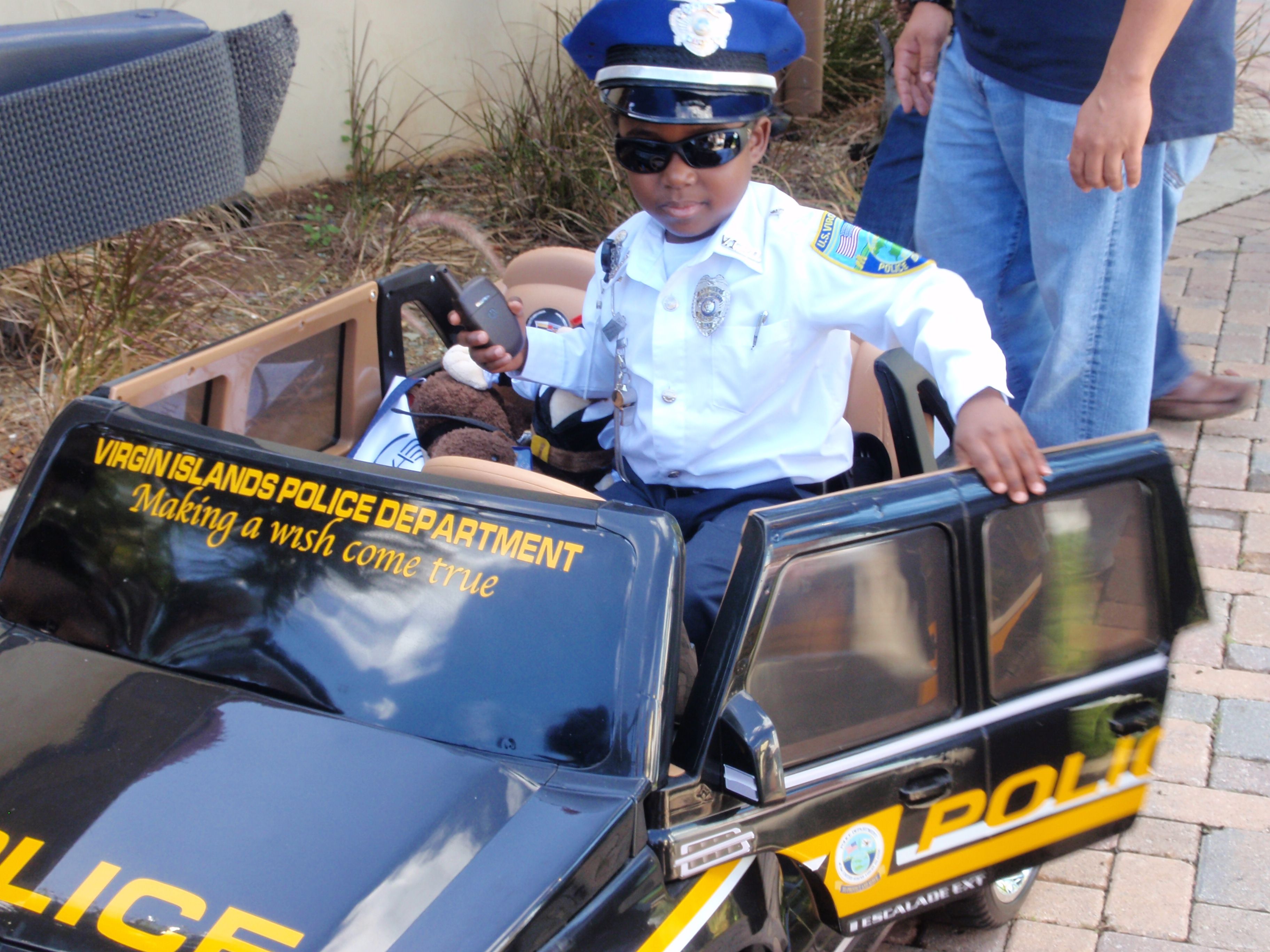 "I've got you, old man," said 4-year-old policeman J'Len Ford, as he apprehended "Terrible Tom" Bolt shoplifting at Yacht Haven Grande Thursday morning.
It was quite a catch, one of the island's prominent attorneys caught red-handed, stolen goods still in a bag. J'Len thought so, and so did an admiring public, which witnessed the arrest.
The occasion was the first wish granted on St. Thomas by Make-A-Wish Foundation of the U.S. Virgin Islands.
The foundation's mission, said local chapter founder Arthur Starr, is to grant a wish to any child between the ages of 2 and a half and 18, who's been diagnosed with a verified life-threatening medical condition. From the moment the foundation receives a wish request, it works to make it happen right away.
While most children wish for something far more elaborate—to be a pyrotechnician at Disneyland or announce a major league baseball game—J'Len's wish was simple: "I want to be a policeman like my daddy," he told Make-A-Wish staff.
The foundation obliged, dramatically, originally, and with heart.
In an intricately orchestrated scenario, J'Len was picked up at his home early Thursday by a police cruiser and taken to the Alexander Farrelly Criminal Justice Complex, where Police Commissioner Novelle Francis deputized him as a police officer. J'Len took the oath of office, was outfitted with a special uniform, given a badge, and directed to proceed to Yacht Haven to in search of a suspicious character, "Terrible Tom."
He was then whisked off in a police cruiser, sirens blazing, to the marina, where he stepped out of the cruiser, and took charge.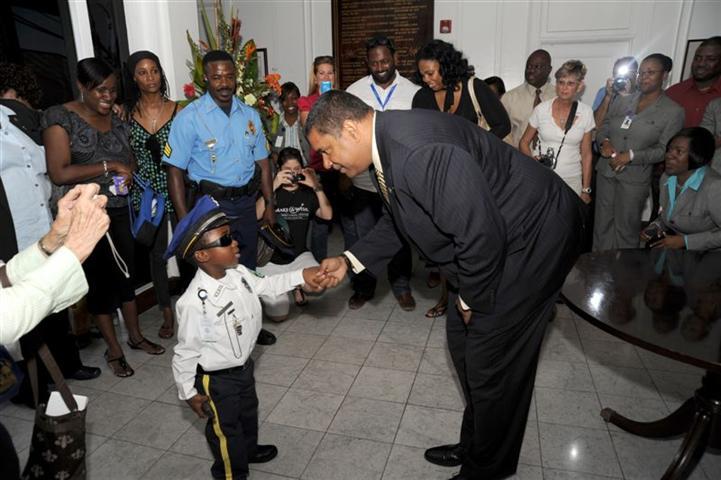 While family and his public stood nervously, J'Len, with eyes wide as silver dollars, though perfectly poised, marched to his own mini-police car. After declining help from his dad, Sgt. Mervin Ford, he entered the tiny cruiser, practiced backing up, listened to route directions, and simply took off as though he did this every day.
While J'len was at ease with the attention, the child's family—including mom, Alison Ford; grandmothers Bernadine Ford and May DeGrasse; and aunt Antoinette Diaz—seemed a little dazed by the performance. Though obviously happy, all were a bit teary.
J'Len led everybody on a wild chase, careening (sort of) around the brick walkways leading to the upscale shops.
Catching sight of "TT," he exclaimed, "That's him," and to the surprise of everyone, jumped out of the car and pursued him on foot.
While keeping a firm grasp on his loot, "TT"—attired in a garish purple cape, green vest and yellow tie—looked back in fear, as the pint-sized policeman closed in.
All the while, the crowd of 20 or so assorted adults followed—like a scene from the Keystone Kops or Monty Python—gasping to keep up with the chase.
At last, J'Len got his prey.
"TT" made the mistake of darting into the Louis Vuitton shop, but he didn't escape J'Len's unerring eye. Following him into the shop, the tiniest policeman marched up and declared his now infamous phrase: "I've got you, old man," while instructing "TT" to put his hands behind him so he could be cuffed.
"I've got to take you to the station now," J'Len said, with little sympathy for the thief, adding, "You need to stop stealing."
J'Len then got back in his car and drove to the center of the complex where he was showered with gifts – including a replica Super Bowl Trophy presented personally by former St. Louis Rams football star Roland Williams – from YHG's Deb Capone "for keeping Yacht Haven Grande safe."
Then it was time to take the culprit to jail. As his by-now-adoring public and family stood about – not a dry eye in sight – sirens blazed and J'Len stared straight ahead as the cruiser took off for the police station where "TT" was booked, fingerprinted, and temporarily jailed.
However, J'Len relented and let him out with the admonishment: "Don't do this again. Be a good Virgin Islander."
Next, J'Len was off to Government House for a hero's welcome from a crowd that included Gov. John deJongh Jr., who presented J'Len with a handsome medal for "bravery in the line of duty," as his father, 30-year VIPD veteran Sgt. Mervin Ford, looked on.
Afterward, J'Len's mother, elementary school teacher Alison Ford, said she knew something was up when she took the day off from school with the permission of her principal.
"But, the governor, my goodness," she said. "I didn't know anything about that!"
Mom said that undoubtedly the police car and radio is what J'Len loves most. "He will be sitting in it all day on the radio, saying '320 copy,' just like his dad."
The wish was co-sponsored by Southland Gaming of the Virgin Islands and Kokopelli Restaurant, where the group was treated to lunch. The local chapter is part of the Southern Florida Chapter of the national foundation.
For more information on the local foundation, visit their website.