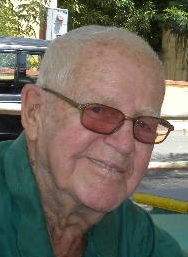 Edward P. York Jr., known as "Eppy," was born in New York City on the significant date of Dec. 12, 1912, passed away peacefully at his home in Estate Green Cay after a brief illness at the age of 97.
He attended a number of preparatory schools, but rather than earning a college degree devoted his life from an early start to a deep interest in radio communication, which brought him to an assistantship with Professor George Washington Pierce at Harvard University's Cruft Laboratory. In 1936 he participated in a Harvard-MIT-sponsored expedition that took a group of scientists and radio experts for several months to a remote area in Siberia to ascertain the effects of a solar eclipse on communication.
He later worked at Colonial Radio in Buffalo, NY. During World War II, he was recruited to participate at Johns Hopkins University Applied Physics Lab in Silver Spring, Md., in a secret weapon development by the Office of Scientific Research and Development of the proximity fuze that played a large role in winning the war for the allies. After the war, he worked with American Cyanamid Co. in Connecticut, and at Sperry Gyroscope in Long Island on development of the Gyrosyn compass. He was keenly interested in steam power and developed a steam engine for his boat Hero, featured in Yachting Magazine.
In 1948 he moved to his childhood summer home, Stonington, Connecticut, and started his own marine electronics business, York Marine Radio, a pioneer in providing communication and navigation electronics for local fishermen as well as private yachts in that area. He also provided land-based communication for the Connecticut Highway, police and fire departments. He was a registered professional engineer in Connecticut. He was a co-founder of the National Marine Electronics Association.
In 1963 he moved his business to San Juan, Puerto Rico, where for 13 years he was the leading electronics service center for commercial vessels, including cruise ships as well as yachts. His work often brought him to St. Croix, and eventually, he and his wife, Nina, relocated in 1976 to spend the rest of his life here. Despite advancing years, he continued active in his business until he was nearly 80, and stayed physically active till shortly before his passing. In his retirement, he and Nina have supported many community organizations. He will be remembered for his great sense of humor and the many stories he loved to tell.
He is survived by his wife of 46 years, Nina, originally from Denmark, his three children from a previous marriage to Rose de Rosa (now deceased): Gillian York Willard (Thomson Willard) of Baltimore, Md.; Edward P. York III (Elizabeth Hager) of San Francisco, Calif.; and Eugene "Wick" York, (Georgia "Rodi" York) of Stonington, Conn. He is also survived by his stepson, Michael Crumpton (Marjetta Geerling) of Miami Beach, Fla.; grandchildren: Gillian Shafer of Baltimore Md. and LeBaron S. Willard of New York, NY; and great-grandchildren MacLean Shafer and Hadley Shafer.
Edward will be buried at the York family cemetery plot in Stonington, Conn. A celebration of his life is scheduled for 3 p.m., Jan. 23, at St. George Village Botanical Garden. Donations in his memory may be made to Continuum Care Hospice, St. Croix Cardiac Center, St. Croix Foundation, or St. Croix Animal Welfare Center.