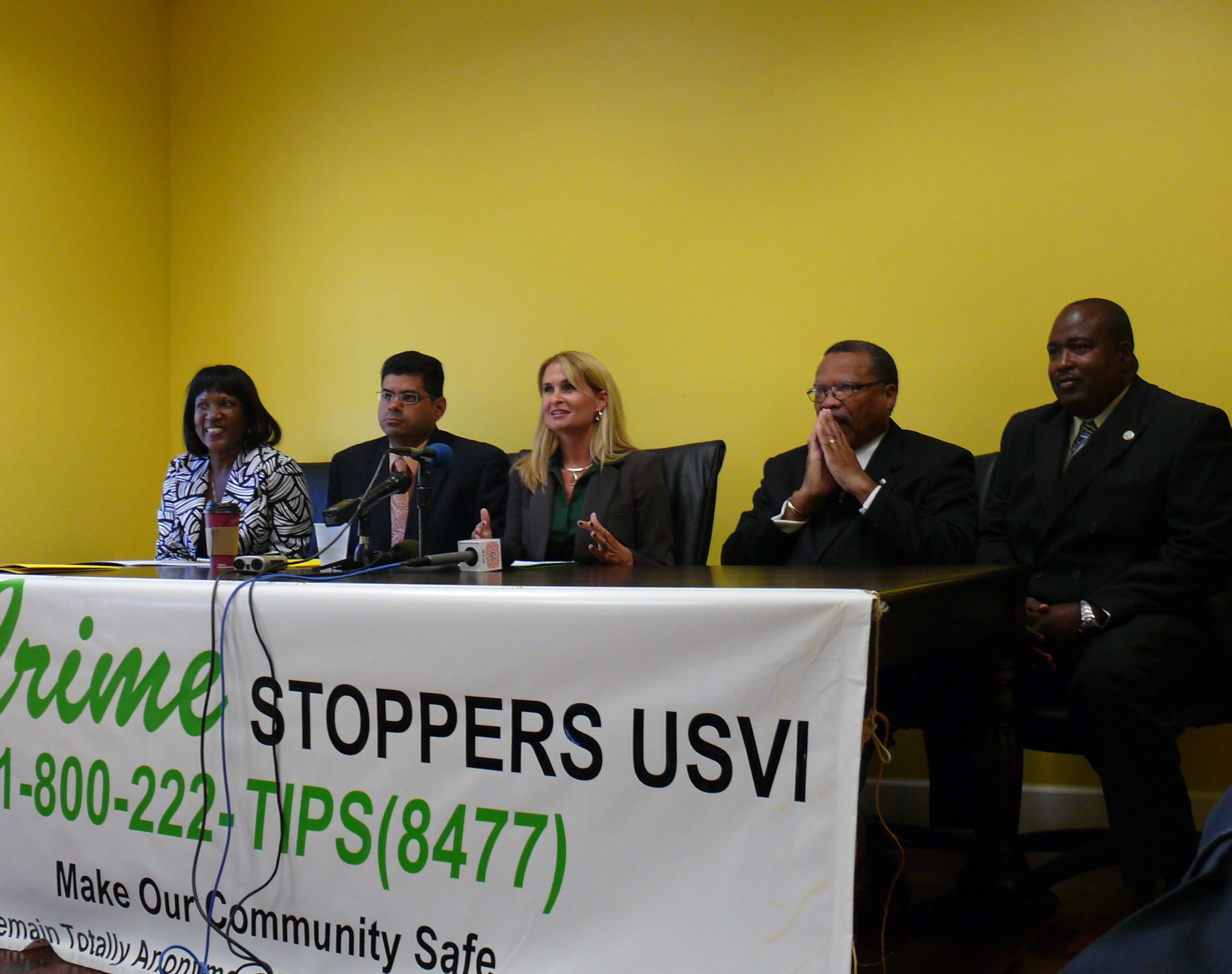 In the two years since Crime Stoppers USVI began offering residents a secure venue for crime tips, those tips have led to a steadily growing pile of arrests, confiscated guns, money and contraband, its leaders said at a press conference Tuesday.
The Crime Stoppers phone line (1-800-222-TIPS) allows citizens to help get criminals, drugs and guns off the streets, with callers never having to identify themselves or testify in court.

The service also offers cash rewards of up to $2,500 for completely anonymous tips leading to the arrest of criminals or the confiscation of significant amounts of illegal weapons or contraband.

The program is run by a local, private nonprofit organization, not the police department; and the tip line goes to a service in the States and cannot be traced.

Crime Stoppers USVI was named nonprofit organization of the year last October by the St. Croix Chamber of Commerce, according to Crime Stoppers USVI's board chair Judi Fricks.
The local chapter was set up in part to help allay the fears of some residents that information provided to the police might get back to the criminals in question. And, according to Crime Stoppers' St. Croix Police Coordinator Thomas Hannah, it has done that in spades.
"Citizens are working with us much more now," Hannah said. "Folks who would not have called before are calling now."
Often, information passed on to police anonymously through Crime Stoppers adds to details received from direct calls, giving police more information to work with and a better shot at making an arrest, Hannah said.
Secure that they will remain anonymous, Crime Stoppers tipsters will often give much more detail than a caller to the police department might.
"When tipsters call, they give us your [the criminal's] name, address, telephone number, license plate number, if you have dogs, and whether your momma is working right now," Hannah said.
While security has been central to the program's success, help and cooperation from all parts of the community is essential, he said.
"Do you want to know where the majority of the tips are coming from? Our (public) housing communities," Hannah said. "They want their children to be protected, and they want their communities to be safe places to live."
While briefing the media on the latest hard data on the tip line, Fricks bolstered Hannah's point by pointing out that most of the rewards are never claimed.
Of 90 rewards worth more than $81,000, Crime Stoppers USVI authorized over the last two years, only 38, totaling just more than $34,000, were paid out, she said.
"What does that tell you?" she asked rhetorically. "Most people don't want the money.… Many have come back to us saying they just wanted to make their communities safer."
According to the statistics she provided, some measures dropped off between 2009 and 2010.
From January 2009 through the end of 2010, Crime Stoppers received 931 anonymous tips, which resulted in 101 arrests, Fricks said.
Of those, 508 tips were in 2009 and 423 in 2010. The year 2009 saw 75 arrests arise directly from Crime Stoppers tips, while there were 26 in 2010. Forty illegal weapons were confiscated due to tips in 2009, and 27 in 2010.
Asked about the drop-off, Fricks and Hannah both suggested the changing numbers were tied to improved police/community relations and more people calling police directly rather than using the secure, anonymous Crime Stoppers call line and website.
While tips and arrests arising from Crime Stoppers went down from 2009 to 2010, the dollar value of recovered stolen property increased from $13,500 to $71,000, and confiscated illicit drugs increased from just shy of $40,000 to $64,000.
"Seeing over $100,000 in drugs off the street in two years, I'm really impressed by that number," Fricks said.
Aside from the ambiguous catch-all category of "other," more drug-related tips came in than any other category, with 78 in 2009 and 63 in 2010. Tips about homicides, the second most-frequent category, increased from 66 in 2009 to 70 in 2010. Third on the list of crimes that prompted tips was possession of illegal weapons, which also increased, from 24 in 2009 to 31 in 2010.
While the 28th V.I. Legislature appropriated some funding for Crime Stoppers when the economy was especially rough and people were unable to give, Fricks said most of the funds for the rewards and operating expenses comes from "people in the territory like you and me, who may not be wealthy but want to see their community succeed."
Based on their best estimates, "We knew if we could get 1,200 people to donate $50 to $200 per year, we'd be OK," she said.
To date, 297 Virgin Islanders have contributed from $10 to more than $10,000, and another 30 Virgin Islanders have given about 3,350 hours of volunteer labor.
Fricks and Hannah were joined at the press conference by some of Crime Stoppers' board members and government partners: Cheryl Francis, president of the Stop the Bleeding Foundation and wife of Lt. Gov. Gregory Francis; Sen. Sammuel Sanes, who chairs the Homeland Security, Public Safety and Justice Committee; and St. Thomas/St. John Police Coordinator Nicholas Francois.
Alongside the tip line and rewards, Crime Stoppers publicizes a crime-a-week for all three islands. Readers can see the crime of the week on the Source on Wednesdays and at the Crime Stoppers USVI website.
One can also leave a tip through the website, or by calling 1-800-222-TIPS (8477). Those who wish to help out can also donate via the website through PayPal, and there is contact information for those who would like to know more or possibly volunteer.