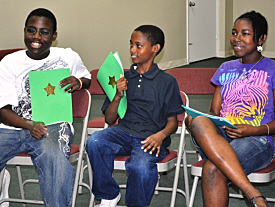 A dozen teens excitedly interrupted one another in an avid discussion at the Industrial Park Conference Room about the election of youth delegates for the 2011-2012 Youth Program of the V.I. National Guard, and in the end, Khalid Edwards was voted in as president.
In addition to Edwards, 17, Shenea Abraham, also 17, was elected vice-president; Kamish Grouby, 15, secretary; and Vielka White, 15, treasurer.
The two-hour meeting also focused on planning social events for the year. The VING State Youth Coordinator, Eliza G. Rampersad, was hired last August to revamp the Youth Program, which occasionally has struggled to get young dependents of National Guard men and women to participate in monthly events.
Rampersad, a former youth delegate herself, wanted to put together a social-planning program to encourage more involvement with VING children. So this year, she started fresh and laid out a formal agenda to make just that happen.
"I am pushing for more youth participation and growth and to make the program even better than it was before. The election of youth delegates is important because it builds leadership and encourages them to have confidence and the ability to grow," she said.
The meeting began with a round of introductions from teenagers from several junior and senior high schools around St. Croix, and then moved quickly on with a Participant Youth Program Survey. Kids were asked to fill out what items they wished to discuss and which social events were most important to them.
Several youngsters felt that life skills, such as money management, problem-solving, and meeting people, were all very important. They all felt that the social events for the year should include movie night, skating, bowling, a beach day, dance event, and a cultural event. Finally, every member agreed that age didn't matter, and that they didn't care if they were attending a social event with different age groups.
Rampersad encouraged the members to plan out events for the year, and they agreed that they would meet twice a month: once for a meeting, and once for a social event. They decided the second Saturday of every month would be "meeting day" and the last Saturday of the month would be the social event.