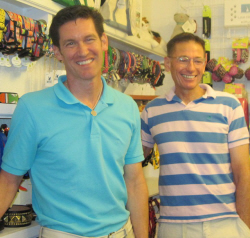 Pet parents and those perplexed about what to get them at gift-giving times will love one of St. John's newest stores, St. Johnimals at Wharfside Village in Cruz Bay.
Opened in early December, St. Johnimals owners Ken Schadegg and Rob Upham stock the shelves with items usually seen only at big-city stores.
"Feel this leather," Schadegg said, caressing an ultra soft dog jacket from designer Manfred of Sweden.
Leading a tour through the store, Schadegg shows off leashes made of crystals and collars hand-beaded in Kenya. The store has robes to keep pampered pets warm and floats to keep them alive should they fall off your boat.
Hand-painted dishes sit near chromed glass and ceramic canisters that could hold doggy biscuits or do double duty as an ice bucket.
Pet beds come already made in a slew of colors or you can order up one to fit your décor.
The Tiki brand dog food is definitely high end. "When you open the can you see chicken, crab, and wild salmon. Just as you would in a restaurant," Schadegg said.
Alas, the peanut butter petit fours are only available during the cooler months thanks to shipping concerns.
Ceramic dog dishes are hand painted. Schadegg and Upham order them from off island, but if a local artist was interested in the job, they'd like to find a nearby source.
The dog carriers are made of materials so fine that Schadegg said people buy them to use as handbags.
While Schadegg and Upham acknowledge that they've opened their store in a bad economy, Schadegg said that their store appeals to a traveling public that hasn't suffered so much in the economic downturn.
"Everyone said St. John was the right place," Schadegg said.
Of course, the fact that they are pet parents of three miniature schnauzers named Jethro, Wilbur and Maybelline helps.
The two are not neglecting the island's less fortunate animals, and are participating in the Animal Care Center of St. John's Copperbones project. A $20 donation through St. Johnimals to the Animal Care Center program gets buyers a 10 percent discount at St. Johnimals for the next year.
They also donated a doggie raincoat to the recent Friends of V.I. National Park auction.
The two were frequent visitors to St. John, and puzzled for several years about how they could live on the island they came to love. Schadegg, a Nebraska native, retired from a post as a housing manager in Providence, R.I. The Providence-born Upham was still working in human resources when they figured out how they'd make their dream come true.
"Everyone says do something you'll enjoy," Upham said.
St. Johnimals is open from 10 a.m. to 9 p.m. every day. Call 777-9588.