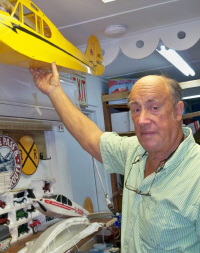 Back in the 1970s, Hugh Bulkley was doing construction in the basement of the World Trade Center in New York City. Nowadays, in semi-retirement, he is doing a different sort of construction: building remote control boats and planes at his hobby store in Gallows Bay.
Bulkley came to St. Croix after Hurricane Hugo, working in – what else? — the construction trade. He ran the Salt River Marina for 18 years, retiring from there in July.
But Bulkley said he had his eye on this little coffee shop at # 1 Hospital Ground for a while, thinking it was a good location for a small-scale business like scale models.
It became available, and in July he opened R.C. Hanger and Boat Club. He built display cabinets, cases and workbenches where enthusiasts can come in and tinker on miniature planes, boats and automobiles.
"This is the place to come and build models if the wife says you don't have room in your condo," Bulkley says.
He's been building them himself for some eight years, or they come already assembled with modelers deciding how much speed they want and what size engine they want installed.
Hobbyists can do all the customizing themselves or Bulkley will do it all from scratch, taking around 30 hours on most models. The finished models are done with exact scale details from rivets on planes to maroon leather seats in a wooden 1930s Chris Craft motorboat. The planes can have wing spans of up to seven feet. The cars can go up to 144 miles per hour depending on the engine. Bulkley also sells parts and supplies.
He says there are around 15 regular locals who race their boats in Frederiksted near Sand Castles and fly their planes at East End Marine Park. The price of the boats can run in the thousands and some go so far as to join a racing circuit.
Modeling is obviously a labor of love, but as Bulkley actually wants to make some money as well, he will be working on a larger scale, building dinghies.
Bulkley will be at his shop Monday, Wednesday, Friday and Saturday from 2 to 6 p.m., and by chance. Call 513-1600 for more information.