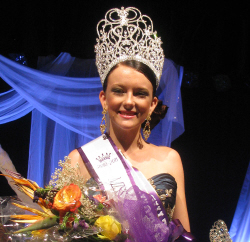 History was made Sunday evening when Taryn Mashburn, 16, a junior at Country Day School, became the youngest contestant and the second Caucasian to be crowned Miss St. Croix. (See Editor's note below).
Mashburn beat out four other young women in the 58th Miss St. Croix 2010-2011 Festival Queen Pageant, held at the Island Center for the Performing Arts. She also took home the prizes for Miss Congeniality, Miss Intellect, Best Cultural Dress, Best Talent, Miss Photogenic and Miss Popularity.
"I feel like I'm in a dream," said Mashburn, who was competing in her first pageant. "I proved myself, I did my best and it worked for me."
As Miss St. Croix, Mashburn takes home a cash prize of $5,000, a cruise, diamond earrings, plasma screen television, a spa day, flowers, sash, queen pin, trophy and the crown. For winning Miss Intellect she won a laptop computer, for Miss Photogenic she won a digital camera, for Miss Popularity a home theater system, Best Talent a DVD player and Best Cultural Dress a cash prize of $250.
"I didn't think she was going to win her first time out, but it's amazing," said Taryn's father, Ken Mashburn, with a big smile on his face. "She worked really hard and it paid off. She also had a great team that helped her."
Mashburn stunned the crowd with her cultural dress, which took the form of a Monarch butterfly, and during the talent portion of the competition came out of an oversized genie bottle on stage to perform a two-minute belly dance.
The first runner-up for Miss St. Croix is Stephany Stanley, who won $2,500 along with a silver and gold bracelet. The second runner-up Carizma Rojas, won $1,250 and gold earrings. The Miss Cooperative award went to Sarah McFarlande and the final competitor was Elizabeth Johnson.
"All the girls get along really well and they have a lot of fun," said Jackie Mashburn, otherwise speechless after her daughter was crowned.
The night was filled with entertainment as the seven judges decided the winner based on eight categories. The contestants were judged on their pre-pageant interview 5 percent, platform speech 20 percent, introductory speech 5 percent, swimsuit 5 percent, cultural dress 15 percent, talent 15 percent, evening wear 15 percent, and question and answer 20 percent.
Mashburn said she is going to celebrate her victory by opening all her presents, but is also looking forward to future pageants and representing St. Croix.
Editor's note: The Source originally reported that Mashburn was the first Caucasian to be crowned Miss. St. Croix. She was actually the second. The first, Sevena Steinman, was crowned in 1973.