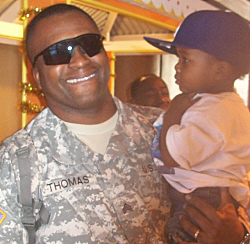 A few Virgin Islands families received a wonderful Christmas gift when three members of the V.I. National Guard returned home Friday after a year-long deployment to Guantanamo Bay, Cuba.
The small five-member team of the 51st Public Affairs Detachment (PAD) returned to Fort Lewis, Washington, on Dec. 19.
Sgt. Athneil Thomas arrived on St. Thomas at approximately 2:30 p.m. where he was greeted warmly by family and fellow guardsmen. Staff Sgt. Shereen Grouby and Spc. Juanita Philip landed in St. Croix at 7 p.m., after an unexpected six-hour delay.
However, two members decided to remain stateside for the holidays: Unit Commander Capt. Robert Settles, and Spc. Archie Corbitt.
Lt. Col. Deborah Lobbenmeier, Commander of the 104th Troop Command, met the 51st PAD in Fort Lewis upon their return and said the soldiers were all in high spirits and excited to be home.
St. Croix Administrator Dodson James arrived at 2 p.m. at the airport to greet the soldiers and was extremely disappointed to learn that the flight had been delayed.
"It means a lot to have a warm welcome after they have been gone for so long. People don't realize that even though they were on a peace-keeping mission, they still face dangers. When troops return, I always try to make it a point to greet them, it's an honor for me," he said.
The 51st PAD is headquartered on St. Croix. During their deployment, they worked with the Joint Task Force Command in Cuba. The VING guardsmen were associated with local, national, and international media while deployed. They also coordinated information for "The Wire," the official newsmagazine of JTF Guantanamo.