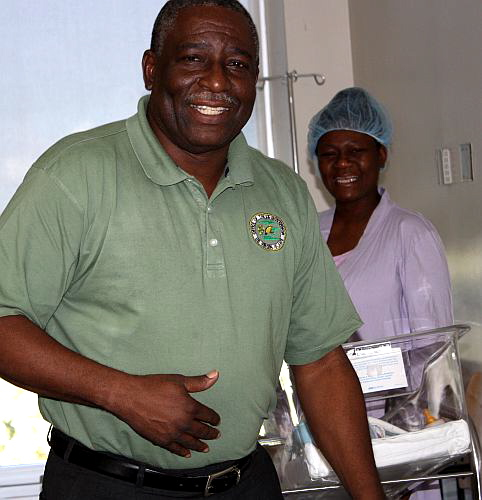 For the third year, Lt. Gov. Gregory Francis and his staff joined officials at Schneider Regional Medical Center for some Christmas Eve caroling around the hospital's pediatric ward.
As the joyful sounds of "Feliz Navidad" and other seasonal favorites echoed down the halls, Francis also stopped at each room to deliver presents to the children or mothers resting with their new infants. In the latter cases, Francis also offered up name suggestions, with, of course, "Gregory" and "Francis" being among the top choices.
"When we were younger, our parents taught us to share and give without expecting anything back in return," Francis said. "I think it's good, especially at this time of the year, that we teach that same lesson, and show the children here how to love and share."
The annual event is put together by the Employees' Relations Committee within the Lieutenant Governor's Office, which collects charitable donations from both the office staff and individuals or businesses within the community. This year, the dollar value of the donations was about $1,200, and will also benefit the Nana Baby Home and Women's Resource Center, according to the committee's spokeswoman Johanna Stefferson.
"This is not government money," Stefferson said Friday. "This is what we've collected from our generous employees and community members, people who really want to give back. They're the silent angels behind the scenes."
Hospital Chief Executive Office Alice Taylor and other SRMC staff also joined in during the morning fun.
"They've been teaching me all the traditional island songs," Taylor said, after the collective choir finished singing about johnny cakes and guavaberry. "But I really am so pleased everyone's here — they've really put a smile on the children's faces, and that's really wonderful because it's hard to be in the hospital during Christmas time."