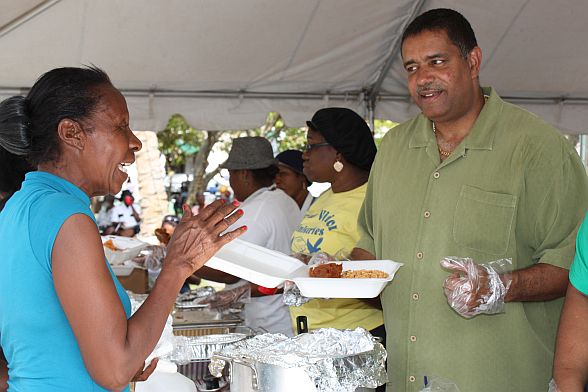 As the Christmas music echoed out over Vendor's Plaza, Florence Henry sat with her grandson, Shiyan Gumbs, at one end of Emancipation Garden, enjoying the light breeze and an afternoon performance in the square by the St. Thomas Cultural Heritage Dancers.
While Henry looked on, long lines of people began to fan out from a nearby tent, where volunteers — Gov. John deJongh Jr., Ruthlyn White and Lisa Smith-Jones among them — were serving up food to the homeless.
The trio worked as a team as the people shuffled through: Smith-Jones carved the ham, deJongh was busy taking turkey orders, and White moved around, supervising the rest.
"I go to these kinds of functions a lot," Henry said, pointing toward the food booth. "I'm a disabled teacher, and I love to bake, but I'm not able to cook that much anymore, so I come out to enjoy the festivities, and this little guy here keeps me company."
As if on cue, 3-year-old Shiyan flashed a smile, and held out his hand, chocolate smeared over his cheerful face. Gumbs had just come from a visit with Santa, played by William George, who was walking around the park doling out small treats from a filled red gift bag.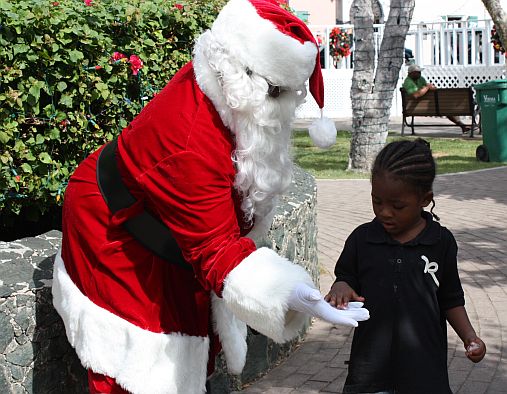 Volunteers were also handing out prescription cards for people without insurance — another small gesture to show that people care about those less fortunate in the community, White said.
The event, now in its second year, has been dubbed the "Annual Homeless Christmas Feast," but so many more people from around the area joined in, partaking in the food, drink and general merriment.
"We do make sure the homeless community gets fed first — they are our first priority," White added. "But if we have food left over, it's there for the people who want it."
The feast is a joint effort of Hearts in Service Association, New Vision Ministries of St. Thomas and the Office of the Governor. White, representing Hearts in Service, said her organization has been bolstered by support from the government in its efforts to rehabilitate the local homeless population and bring them back to self-sufficiency — a goal she hopes to see accomplished with the new transition center the service is building in Estate Anna's Retreat.
"It's going to be a place for them to bathe, a place for them to sleep, a place for them to get their lives back on track," she said. "There are a lot more mainstream programs for the homeless population then there were before, so things are getting better in that area, but there is still so much left for us to do and I hope we continue to get the support we need to really make a difference."