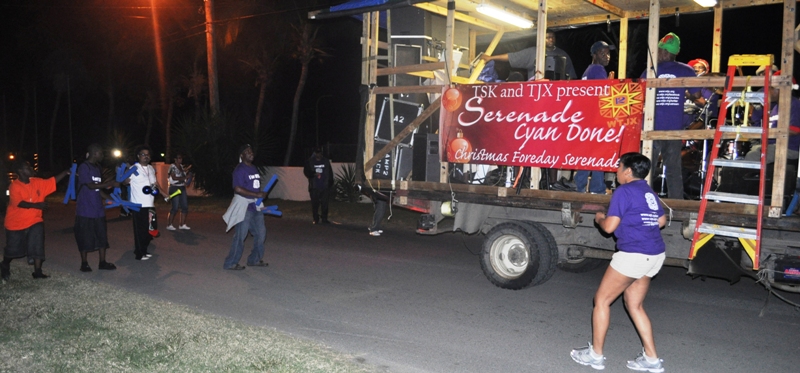 Thursday morning at 2 a.m., Stanley and the Ten Sleepless Knights arrived at Channel 12 headquarters in Richmond to begin waking Crucians with their annual "Foreday" Christmas Serenade.
Led by a police escort, a long procession of approximately 25 cars followed slowly behind, as the band played its traditional Crucian quelbe of Christmas carols.
As the festive sounds played, and cars honked in celebration, people emerged sleepily from their homes in pajamas, to dance alongside.
Marjorie Brown awoke early to join the band in Richmond, as she does every year to celebrate and "party." She said they had already stopped by two homes and were greeted with cheers. Resident Robert Rios danced in front of the float as a colorful rendition of "Joy to the World" rang out.
"I just woke up early so that I could join them. I have done it for the last five years to celebrate the holiday spirit," he said.
After Richmond, Stanley and the Ten Sleepless Knights led the procession to Harbor View. Several cars stopped on the side of the road, and passengers emerged to join the singing, and dance in the street.
Ray Iles, who occasionally plays the congas and has participated every year, was excited for this year's celebration. He said he remembers being a young child and waking up to the merry sounds of quelbe early in the morning.
He got up early in Richmond, but after they passed his house near Harbor View, he just had to join the band and went and got his squash to scrape.
"This is a tradition that has been going on for years. I love it. I know the band members personally, and I'm going to join them," he exclaimed excitedly, as he ran back to the truck to meet them.
The procession went through Kennedy Housing Community and then into Christiansted Town, where several people were already waiting in cars and along the road for the party to begin.
Energized for Stanley to arrive, Lilliana Belardo de O'Neal and her family were all wearing Santa hats, waiting on the road with many others.
"Without Stanley and the Ten Sleepless Knights, there would be no Christmas," she said.
The procession then headed toward Gallows Bay, and Tide Village, where breakfast was waiting for them at Annette Hendricks house.
The band planned to finish around 9 a.m. at WTJX headquarters in Richmond, the place where it all began.