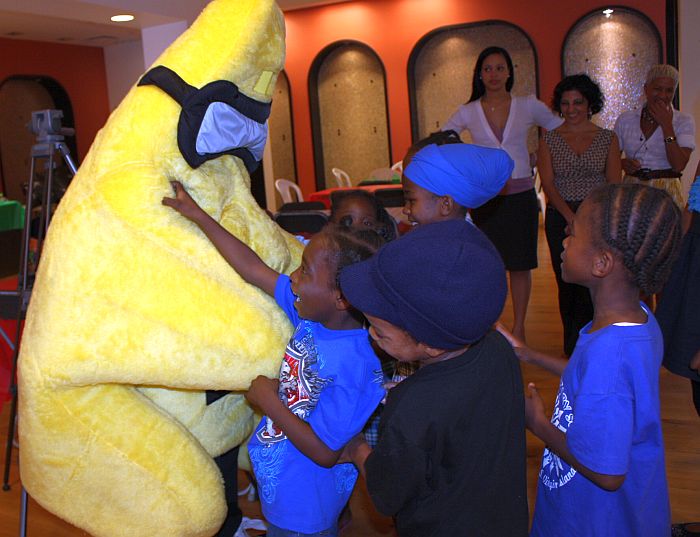 About 45 lucky youngsters got to spend Thursday afternoon with a star—Tommy Star, that is—at the USVI Hotel and Tourism Association's annual Christmas party for the Boys and Girls Club.
For more than 10 years the association has sponsored a toy drive among its members, collecting gifts for the young people of the club. This year, the kids tumbled into Yacht Haven Grande for the annual event, also supported by FirstBank and the Westin St. John Resort, which donated $1,000 each; and Wikked, which provided the food for the party.
"We're really excited about this year's event," Association President Lisa Hamilton said. The names of each of the students are collected beforehand and attached to the age-appropriate gifts distributed during the party, to make the gathering even more personal, Hamilton said.
While waiting for the festivities to start Thursday, youngsters spent some quality time with association mascot Tommy Starfish, who handed out hugs and high fives, and a few dances for the girls.
"There are so many reasons for us to celebrate today," said Jackie Brown, club director. "We're so grateful to the association for doing this for us for all these years. It's so awesome, and it means so much to the kids."
Brown said her group had extra cheer Thursday because school had just let out for the holidays, and many of the students had come home with high marks on their report cards. To keep up that progress and to help out some of the parents who may have to work, the club's board has decided to keep the club open for the next two weeks while classes are out, Brown said.
Located at Oswald Harris Court, the Boys and Girls Club is an afterschool program that helps students with their homework and provides tutoring, along with lessons in life skills for both the girls and boys. Brown said this year the club is pushing its Project Learn program to help students in various academic fields, along with its Smart Moves program, which mentors young girls on social etiquette and self-esteem.
"We're now much bigger and better than ever before," Brown said.
To volunteer or become involved with the program, residents can call O'Neil Canton, the club's executive director, at 774-6835.