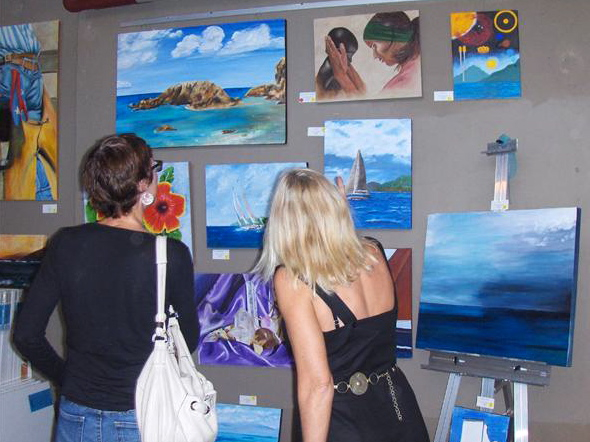 It's a Saturday in November and the spacious room below the Bluebeards' Castle Resort swimming pool is filled with energy, light, vibrant with activity.
That is normal on a Saturday when the Underwater 7 – artists Brooks Brown, Susan Howard Hancock, Kim Holdsworth, Denise Ellison Kurg, Pam Larsen, Marcy L'Hommedieu and Cathy O'Gara – gather to paint in the studio filled with natural light pouring in from a wall of windows overlooking the harbor. But on this particular Saturday it's a special occasion. They are preparing for their first group show, much of which will be viewed for the first time.
The women's backgrounds vary; some are self-taught, others are art school graduates. No matter, the dynamic is there and the women thrive on their contact with each other. This is their working magic.
All are professional women and all somehow have made the decision to balance their art while, maintaining their careers. And it works.
"We've all known each other for years," says Pam Larsen. "Denise and I began painting together years ago. Neither of us had any formal training, so we'd go to each other's house and work with painting lessons on DVDs.
"When we met the artist James Martin and saw his beautiful paintings, we grabbed him by the lapels and said, 'You have to teach us how to do this.'"
Martin was giving lessons then out of his home, Larsen says.
"He went on a mission to find this studio where most of us have been painting for the last five years. Jim was there to help us if we needed it. Last year, he told us he does things in five-year increments, and this was the end. He left the studio to us and went back to paint from his home."
Kurg negotiated a lease with the hotel and they were in business. Since then the women have been meeting Saturdays to paint and to share the experience. Their styles vary widely.
O'Gara says, "I kinda' had to make a decision when we moved here whether to be a commercial or fine artist, and I decided making money is good."
After years running her ad agency, AdPro, she is giving herself time now to go back to painting for the joy of it, while maintaining her business.
Kurg is also a busy professional.
"Sometimes I wake up at three in the morning and just paint," she says.
Originally from Polynesia, she says her memories influence her work, much of which is sensual, powerful.
"It's what I love," she says.
Complimented on her "gift," Kurg says, "I don't know if it's a gift. I struggle to put it down. It's not easy. A lot of it has to do with us being together. It opens doors."
Brown, who manages Tropic Tours, has lived on St. Thomas almost all her life. She thrives on the studio's atmosphere.
"It's wonderful to be able to share with one another. There's no ego involved; we want to help, a suggestion about line or, maybe, color."
Susan Hancock, co-owner of the St. Thomas Jet Center, an art school graduate, stands before her painting of the half face of a zebra. It's arresting.
"That's how I see it," she says. And that, of course, is what art is all about.
Kim Holdsworth, had a career in graphic design in Chicago before returning to painting seven years ago. She has been a member of the group for two years.
When Marcy L'Hommedieu and her husband moved to St. Thomas n 2008, she returned to watercolors and acrylics after a 30-year hiatus. The local beauty inspired her to pick up her paintbrush.
Larsen reflects on a sale she made at last month's show, a painting she loves. It's an affectionate rendering of a grandfather and granddaughter, with the play of light setting it off.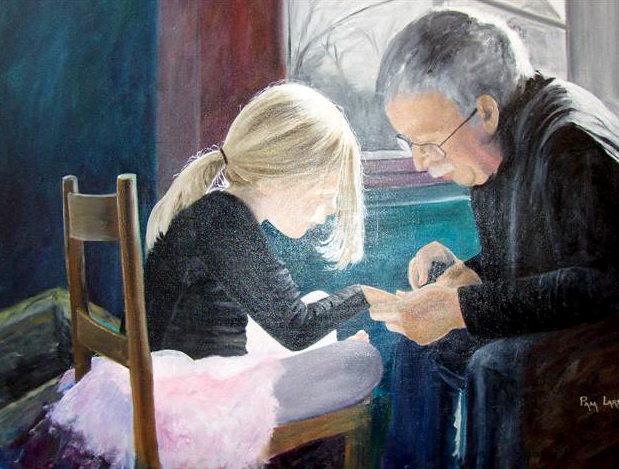 "I really didn't want to part with it," Larsen says. "Then a friend saw it and said she had to have it. There were tears in her eyes."
There are no tears in Larsen's eyes as she talks about the show, and the rewarding reception it received.
"All of us sold our paintings," she says.
It, in fact, has paved the way for an important new show.
"We are going to have our second show in April," Larsen says, brimming with her characteristic enthusiasm. "The hotel is going through a huge renovation now, and they want us to do an art show in the lobby, next April. It's really a big affair, ribbon-cutting, dignitaries!"
The group has started life-drawing classes every other Wednesday from 6:30 p.m. to 8:30 p.m..
Information about the classes, or about dropping in on a Saturday, can be obtaned by calling Larsen at 998-0135 or Kurg at 998-4423.