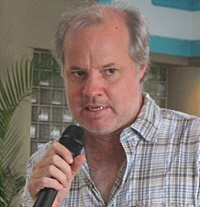 Although it has been nearly a year since a powerful earthquake devastated Caribbean neighbor Haiti on Jan. 12, the photos and video shot by St. John resident Bill Stelzer the following week remain a powerful reminder of the suffering.
"The logistics were almost impossible," he said of the trip.
He made his remarks to a dozen members of the Rotary Club of St. John gathered Friday at the Westin Resort and Villas Beach Café for their weekly meeting.
Stelzer works in Haiti with the One Laptop Per Child program, which aims to bring low-cost durable laptop computers to children in Haiti as well as other areas. While their mission just after the earthquake was to help, the organization was back distributing laptops within a couple of months.
He showed a video of several girls who were living in tents or collapsed buildings singing into the laptop's recording unit. He also had photos of one girl who had been featured in an earlier video shot by Stelzer for the One Laptop program. That girl was about to be adopted, but Stelzer said he and others worried that she might fall prey to kidnappers and slavery.
According to Stelzer, efforts by a missionary group from Idaho to operate an orphanage in the adjacent Dominican Republic led to a clamping down by the Haitian government on adoptions. The missionaries ended up in jail, accused of kidnapping. Stelzer said that in the earthquake's aftermath many people inexperienced in the ways of Haiti tried to do good works, but their unsuccessful efforts made things very difficult for aid groups that had worked in Haiti for many years.
"Haiti is a very difficult place to work," he said.
While most people have seen many pictures of collapsed buildings aired in the months after the earthquake, Stelzer provided some insight into why that happened. He said that the denuded state of Haiti's hillsides means that entire buildings, including the roofs, are made of concrete rather than wood. However, only the roofs, not the walls, have reinforcing bars called rebar. This means when the unreinforced walls collapse, the roof comes down on top of the occupants. Building codes in more developed places, including the Virgin Islands, call for reinforcing no matter where the concrete is used.
Stelzer also showed photos of places used for mass burials.
"When I came back a couple of months later it was a tent city," he said.
In other Rotary business, member Joan Bermingham outlined plans for the Rotary's participation in the Feb. 19 through 20 Relay for Life to be held at Winston Wells Ballfield. Rotary plans to have a team participate.
However, she said the Relay for Life organizers are having trouble lining up cancer survivors to enjoy a dinner for them and their caretakers to to be held in conjunction with the Relay for Life. She said so far only 10 people signed up but there is space for 75.
She urged cancer survivors to make a reservation by calling Beverly Biziewski at 776-6833.